Nadat ik een heerlijke woensdag met tante Ank heb doorgebracht, de tassen zijn toch gepakt en ik kan niets meer doen, is het donderdag ochtend zover en rinkelt de wekker ons om 5.30 uur wakker.
Natuurlijk willen we op tijd (dat betekent 4 uur tevoren) op het vliegveld arriveren om de drukte waar de kranten zo vol van staan, te vermijden. Het lukt ondanks dat het vol is met mensen die in deze mei vakantie erop uit trekken en de drukke veiligheids- en paspoortcontrole. Na een uur zijn we alle controles gepasseerd waarna we vervolgens drie uur de tijd hebben om het vliegveld te verkennen. Ach, met wat rondlopen, drinken en praten met andere reizigers vliegt de tijd zodat we voor ons gevoel snel kunnen boarden. De vlucht naar London duurt slechts 1.20 uur en dan, na opnieuw een veiligheids- en paspoortcontrole, mogen we op London 3 uur wachten.
Ik, Tita, ben gecharmeerd van Heathrow Airport. Er zijn grote ramen die zicht bieden op de platforms, er is lekker eten en koffie en naar de massa's mensen kijken maakt dat de wachttijd omvliegt.
Gisteren bij tante Ank kon ik al inchecken, waarbij het gelukt is op de achterste rij twee plaatsen naast elkaar te krijgen. Heerlijk geen medepassagier naast je. En een raampje. Weliswaar te ver verwijderd van onze stoel om naar beneden te kijken maar we hebben zicht op buiten. Niet dat we hier veel doorheen kijken want zodra we vertrekken gaat de TV aan en kijken we films die het noodzaken ons raam te verduisteren daar we anders de film op ons scherm niet kunnen zien. Helaas of misschien gelukkig vertoont het inflight entertainment systeem nogal wat kuren zodat tweemaal het TV scherm op zwart slaat wat ons doet besluiten om nog even onze ogen te sluiten. Geen slecht idee want we hebben wel te maken met een tijdsverschil van 6 uur waardoor we pas om 01:00 uur Nederlandse tijd in Baltimore arriveren.
Op het vliegveld moeten we in een andere rij dan de "Esta visitors" staan met als gevolg dat alleen Indiërs (die klaarblijkelijk allen een visum hebben) en nog 2 andere westerlingen in deze rij moeten wachten. En dat duurt lang want er is slechts één douane beambte voor een lange rij met als gevolg dat we als laatsten onze tassen van de bagageband kunnen halen. En dan begint een scene uit Border Control.
We moesten zo nodig Hollandse Kaas meenemen, wat ik natuurlijk heb aangegeven op het douane formulier. Met als gevolg dat onze tassen extra nagekeken worden bij de Agricultural Inspection. Op zich niet erg, ware het niet dat we opnieuw in een enorme rij moeten wachten van Indiërs wier bagage helemaal uitgespit wordt en waar voortdurend curries evenals noten en andere zaden uitkomen. Net als ik denk dat dat ons niet kan gebeuren, we hebben immers alleen Old Amsterdam kaas en paaseitjes bij ons, blijkt bij inspectie dat ik ook nog koffie bij me heb. Met schaamrood op mijn kaken moet ik bekennen dat ik dat vergeten was. Of de douane beambte nu wel gelooft dat we geen vlees of noten bij ons hebben? Na wat gewroet in onze tassen blijkt toch alles in orde en mogen we onze weg vervolgen (met kaas, paaseitjes en koffie).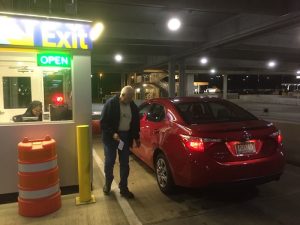 Met een shuttlebus rijden we naar het verhuurbedrijf en nadat we onze Toyota Corolla uit Delaware overhandigd krijgen en de bagage ingeladen hebben rijden we door de bossen van Linthicum naar ons hotel Candlewood Suites. Het is inmiddels 21:00 uur en dat is in Nederland 03:00 uur in de nacht. We eten nog wat macaroni cheese (opgewarmd in de magnetron op onze kamer) laten een lamp maken die kapot is en duiken niet snel daarna ons bed in. Ons avontuur kan beginnen.
Travel and arrival Baltimore, 27 april 2017
I had a great Wednesday with my auntie Ank and stayed there also for dinner. At home there was nothing to do, the bags were packed and everything ready for departure. Thursday morning our alarm clock rings at 5.30 am to wake us up. We want to be on time (meaning 4 hours in advance) at the airport. The news warns everyone for the crowds and delays at the border. We are lucky, despite the many  people traveling during this May holiday, we pass with success the busy security and passport control in just one hour. Then we have only three hours left to wait. Oh well, with some walking around, drinking and talking to other travelers time flies so it does not feel so long.
The flight to London is only 1.20 hours and then, after again security and passport control, we have to wait 3 hours in London. But I (Tita) love Heathrow airport. There are large windows that offer a good sight on the platforms, there is good food and coffee and watching people makes that our waiting time dissolves.
Yesterday at my auntie Ank I could check in and it worked out that we could take the last row of two seats. Great, no fellow passenger next to us. And a window. Too far away from our seat to look at the earth but we have a seat with a view. We don't look often outside because the movies on the TV screen are intriguing and we have to dim the light from outside otherwise we cannot see the movie on our screen. Unfortunately, or perhaps fortunately, the inflight entertainment system does not work so good. Twice the TV screen is on black. So we decide to close our eyes. Not a bad idea because we have to deal with a time difference of 6 hours and it is already 1:00 am when we arrive in Baltimore.
At the airport we are guided to a different row than the "Esta visitors". The result is a long row with people from India (they obviously all have a visa) and only 2 other Westerners. The waiting takes long, there is only one custom officer for this endless line. The result is that we are the last persons to enter the baggage claim area. And then a scene starts from Border Control.
SORRY, NO PICTURES ALLOWED !!
We have Dutch cheese with us. Of course I have stated this on the Customs form. Now our bags will be extra checked by the Agricultural Inspection. In itself it's not bad if not that, again, there is a long line consisting only of people from India. There luggage is searched thoroughly and constantly customs find curries as well as nuts and other seeds. Just when I think this cannot happen to us (after all, we only have Old Amsterdam cheese and chocolate Easter eggs) the inspection of our bags shows coffee. I have to confess that I completely forgot this coffee. And the customs officer has to believe that we haven't any meat or nuts with us? After some grabs in our bags everything seems to be OK and we may continue.
With a shuttle bus to the rental cars and after a Red Toyota Corolla from Delaware is handed over and our luggage is loaded we drive through the forests of Linthicum to our hotel Candlewood Suites. It is now 9:00 pm (In Holland it's 3 o'clock in the morning). We eat some macaroni cheese (warmed in the microwave at our room) repair a broken light and dive into our beds. A new adventure may start.