Finally, we can cross borders
Traveling from the end of June till the beginning of August 2021
At the end of June 2021, the corona infections finally decrease and Germany open its borders. However, to enter that country, you must be registered on a website of the German government and be fully vaccinated for at least two weeks. The latter is not a problem because we both had our second Corona-vaccination end of May and so, after registering, I can work on an itinerary through Germany. That is not really difficult because, the past year I already made a lot of notes, so I know roughly where we want to go.
Sunday, I give a finishing touch to our travel-route. When I return home on Monday morning, with fresh bread rolls for our breakfast, Dick looks at me with a gloomy face. He has bad news. When my face darkens, he tells me that France is opening his borders too.
Dick knows better than anyone that now we will not only stay in Germany but also travel to France and my itinerary can be thrown into the trash. After breakfast I immediately going to sit at my computer and don't leave it until, a few days later, I have a sketch of a new travel route that leads through both Germany and France.
One week we will stay in the west of Germany because near the town of Cologne are a number of caches that we definitely want to find. That geocaches have a high level of difficulty and with that we can fill our geocaching grit (with all difficulty levels of caches). The other 4 weeks we will travel through France. We already intended to go there in September 2020, which, due to the country's lockdown caused by Corona, could not take place.
With some effort our itinerary is ready when we pick up Hannah and Henk (my sister and brother-in-law) at the airport of Amsterdam on Friday, June 25th. They return from a nice vacation on the Greek island of Kefalonia. There it was clearly noticeable that it is still Corona time, it was quiet on the island.
Saturday June 26th , early in the morning, we pick up the motorhome from our storage. Dick drives it directly to our car dealer while I go home to block a part of the parking lot. Today we will not leave and then it is good that we can park our motorhome behind our house.
Soon Dick is back. The carriage bolts we bought for our wheels do not fit. Unfortunately, because especially when the camper is staying on its levelers, it's nice that the wheels can't just be removed. But we have to deal with this. We will return them to our motorhome dealer on Monday.
The rest of the day Dick is busy assembling a new fixing system for our bicycles. After removing the bike saddle, Dick can secure the bikes with a rod from the ceiling of our motorhome garage into the bike-frame so we no longer have to deal with bungee-cords. While he is working on that, which entails quite a bit of research and measuring, I load the motorhome with all the stuff we think we will need for the next 5 weeks.
The next day we bring in some food and drinks and then we are ready to leave. To leave earlier is not really annoying. Now we can drive to the town of Nuenen and cycle around there for a while, we avoid all traffic jams in the western part of the Netherlands on Monday morning and only have to drive a short distance to Brueggen in Germany, just over the Dutch border. In Nuenen we are the only ones in the parking lot near the sports fields and after parking the motorhome we take our bikes and go cycling around the area. It is sweltering hot but, in the woods, there is some wind which provides the necessary cooling.
At the end of the afternoon, we arrive in the center of Nuenen where, of course, we take a picture at the sculpture group of the famous "Potato Eaters". After all, we are in the birthplace of the great painter Vincent van Gogh. Unfortunately, it starts to rain when I buy some salads in the supermarket. Because the rain is really pouring down, we take shelter in a shop, but that doesn't really help because when we arrive 20 minutes later at the motorhome, we are soaked with rain. But it is not cold and the rain does bring a nice coolness.
We are glad that the rain stops when we unload and store our E-bikes so it does not get wetter inside. Luckily, we have enough space in the shower to dry our soaking wet clothes.
After a quiet night, we don't wake up until 8 am on Monday morning, June 28th. Again, the sun is shining and the thermometer already shows 72 degrees. Look like it's going to be another warm day. Despite the fact that Raema, our dealer in Nederweert, is closed on Mondays, we see John (the salesman) driving a motorhome and hand him the (unfortunately inappropriate) carriage bolts. Then we drive on, across the border and into Germany. I just get tears in my eyes as we cross the border. Not because the landscape is so moving or different (you don't see any difference) but because for the first time in almost a year we have the opportunity to cross an international border. From today, Germany no longer considers our country as a high-risk Corona country and the registration requirement is no longer necessary. There is enough place to stay in Brueggen, we park the motorhome between the German motorhomes (there are no other foreigners) and then walk to the Rewe supermarket to do some shopping and hand in our 30 empty bottles.
In the course of time, we have drunk the contents of German cola (cheaper here) and water bottles and as their deposit is not returned in the Netherlands, we finally have the opportunity to refund them. At the same time, we can also buy my favorite breakfast juice.
Richard, a friend in our diving club, had already offered to bring it for us when he was doing a shopping round in Germany and Belgium last weekend, but we declined that sweet offer because then this juice would remain in our diving club for at least 5 weeks.
Unfortunately, the advertising for juice ended yesterday and now we have to pay the full price. Since we will only travel in Germany for a week, I am afraid that no new advertising is to be expected. While we are shopping it is lightly raining outside but soon the rain stops and we can take the e-bikes to look for a few caches in the area. Some of them are hanging caches that we have to fish high out of the tree.
With a steady hand, Dick manages to fish down one cache after another. Unfortunately, it's a fact that this leads to a stiff neck after getting out 5 caches. But we have a good time and after cycling 13 miles through forests and fields, we arrive back at the motorhome where the temperature inside has risen to 93 degrees Fahrenheit. Fortunately, it is already 5 pm and not much later the bright sun disappears behind a few low-hanging clouds with which the evening cooling begins. As we have no airco in our RV, all the windows are open so it finally cool down inside. While Dick is logging all our found caches on the computer, I walk to the shops at the other side of the street.
At the supermarket Aldi I saw a nice summer down-duvet, which I buy after some hesitation (do I really need it?). It nicely fills the gap between our other, thicker, summer duvet and just a sheet. Of course, the Platz Wart (supervisor of the motorhome parking and sitting outside) immediately wants to know what I bought. When he sees the summer down duvets I get his approval on my purchase, I will not regret this purchase from Aldi. And I know he thinks "it is also good for the German economy".
Early evening, I walk to the street again to get Turkish food, kebab with chips and lettuce. It tastes good and after cleaning our dishes, we read the rest of the evening our exiting books. In the meantime, we hear the TV commentary of the football match from our neighbor motorhome, which is easy to follow because all the windows are open and the TV is very loud.
Tuesday June 29th, we only see a watery sunshine, but the temperature is pleasant with 70 degrees. After dumping our gray- and black water and fill up with clean water, we leave the town of Brueggen. 50 miles further, in the town of Elsdorf, we stop. The parking lot next to the sports fields is completely empty so my worries (Is there a place to stay?) were not necessary. Soon after the motorhome is parked, we take the e-bikes to explore the area, of course we also look for geocaches. One of the caches brings us to a viewpoint over a huge lignite mine.
The temperature has risen to 75 degrees so we cycle in our T-shirt. The caches in the vicinity of the mine have a high degree of difficulty, again they hang high in the trees so we took our fishing rod with us for a reason. Just before thunderstorms arrive late in the afternoon, we are back in the motorhome. We were really lucky with the weather today. During the evening, the rain won't stop and I'm glad we have an emergency supply of food in our home. The brown beans, bought in the USA a couple of years ago, are still good to eat and the canned German goulash tastes good with it. The next day the weather still looks threatening but it is dry and after having our breakfast with fresh bread rolls, we grab the bikes and go out again. It is not warm, only 65 degrees, but it is dry. Because of the wind we put on our rain jackets.
Again, most of the geocaches hang high in the trees. Dick, however, is now a virtuoso at angling so, one by one, he takes the caches down. Dick only allows me to search for a cache that is hidden in a culvert under the road. I still don't find it tempting to crawl into a pipe, but fortunately there is practically no water in it, so this cache is quickly grabbed. Since Dick also leaves the tree climbing to me. Because we can put a wrecked old table on its side, I manage to get into the armpit of the tree. Don't think I would have made it if I climbed on Dick's shoulder. From there it is only climbing up the branches until I have reached the cache. Dick looks approving when I also manage to get out of this tree safely. I notice that my body is not so flexible anymore (I am really getting old).
Around 3 pm we are back at the motorhome where Dick gets the laptop and start logging our geocaches and I walk to the shops to look around. Only a 10 minute walk. That was not possible for a long time due to the Corona measures. In the evening we eat cevapcici (a kind of sausage) with potato cakes and lettuce.
As we already finished reading some books and I don't want to carry those books with me for the rest of our vacation. So, after dinner, I walk to the center of town where I can leave our books in a mini library.
On Thursday July 1st we have fresh bread, the advantage if you stay close to a supermarket or bakery. It's still a bit cloudy and the sky is gray but there is no rain.
On the way to our next destination, we stop to find the two difficult caches, with which we can fill up our geocaching grit. Unfortunately, that won't work. We can't discover the first cache.
It's somewhere in the trees but we can't find it and the other cache is located deep under the road, again in a culvert, through which a fast-flowing river flows and the brown opaque water does not immediately invite me to dive into this water. So, we still have to be patient before we can fill up our grit.
Because the environment here is not very attractive and there is still a drizzle, we drive straight to Mettlach, where we arrive at 3.30 pm. Of course, there is plenty of space in the parking lot of the "Abtei Brau" and we park our motorhome. The terrace of the brewery is open and there is still a possibility to sit and eat. The rump steak and schnitzel taste excellent but, sitting on the terrace, we have to put on our bodywarmers because it is not really warm. But after dinner, the sun comes out again, which tempts us to take an evening stroll along the river Saar.
Friday, July 2nd, it is still cloudy early in the morning, but during the day the sun dissolve the clouds and soon we have taken off our jackets while climbing with our bikes over steep forest roads to a high plane. Again, we have a tour through the woods where caches are hidden high up in the branches. If geocaches are hanging between bare branches of pine trees, that is not such a problem, but as soon as the cache-tubes are among thick pine branches, Dick is faced with a bigger challenge. Just before we start the descent to the village, we pass the imposing mansion of the Boch family. It is beautifully situated on the mountainside and overlooks the town of Mettlach. The parking lot of the brewery, where we parked our motorhome, is also visible at the bottom of the valley. It is a pleasure to walk through the gardens of the mansion because everywhere are ancient trees. On his travels around the whole world, Mr. Boch took their seeds with him and this mountain soil was suitable for them to grow.
We have a nice chat with a hunter who wonders whether we also do these trips in the evening and at night. He hunts here and doesn't like it that people are wandering around in the woods at night because of the game. We reassure him that normally you cannot find geocaches when it's dark, but he keeps looking worried.
Of course, we also take a look at the gardens around the factory of Villeroy and Boch, a famous pottery factory. Here you find not only the ruin of an old tower (built in the year 1000) but also a mosaic consisting of 137.000 pieces next to the statue of the Erdgeist. Sculptures that were on display at the 2000 World Exhibition in Hamburg. Of course, we take the necessary pictures before we cycle back.
At the motorhome we look back at a tough day. It feels that we climbed with our e-bikes more uphill than downhill and only hit the forest roads.
After the bikes are stored Dick log the caches on the computer and I do some administration. When everything is done at 6 pm, we walk to the Brewery where we quickly find an empty table and again, we enjoy the freshly tapped beer. We can say the same about our dinner, the meat tastes excellent. We think that our efforts on the steep forest paths are also to blame.
This evening it's warmer and so we don't have to wear our body warmers during our dinner on the terrace of the Abtei Brau. Back at the motorhome, less than 300 feet away, we still enjoy the last sunrays. We love this time of the year because it stays daylight for a long time.
Saturday, July 3rd, the sky is steel blue and early in the morning it is already 72 degrees. We still have old bread and we want to eat that first, so today no fresh bread from the supermarket at the other side of the parking lot. The weather is so beautiful that we decide to stay in Mettlach for one more day and before we climb again into the woods on the hill, we first pay at the tourist information for our overnight stay. Parking for a day costs 5 euros but water and dump are free. After writing down the number of our license plate, so the security guard knows that we paid again.
Dick looks for the itinerary to another forest on another hill. It is further away and seems even steeper than the forest of yesterday. Soon we arrive on narrow goat paths on 20% slopes and it is impossible to get through with our e-bike. We have to climb up next to our e-bike, which is not really a success either, but finally after a lot of moaning, we reach the top of the hill. We catch our breath again, have a drink, and then continue, higher up through the woods via orderly wide forest paths to a higher hill. The forest is beautiful here, deserted and quiet, except for a small piece of forest, the "Ruhe Forst", where people are buried or their ashes have been scattered. Quite a few people walk here and there is even a Forest Chapel where a farewell service is held. We gently pass the chapel and then disappear deeper into the forest. End of the afternoon we have to calculate a bonus cache by giving names to the different smurfs whose pictures were found on the geocache tubes.
First, we have to ride back to a more civilized area, because in the middle of the forest is no WIFI nor cellphone reception and as we don't know the names of the different smurfs, let alone that we know their German names, we have to descend the wooded slopes.
But after a while we find an open spot next to the road where we can use our cellphone, search for the names and finally we can calculate the right coordinates for the bonus geocache. Then we cycle (better climb) again into the forest to a steep mountain slope covered with moss and stones where we find the last cache of this series. Slowly we cycle back to town and are just in time to see the finish of the Tour de France.
Once the bikes are stored (very easy with our new fixing system) we have to put our "Angles Morts" stickers on the sides and rear of our motorhome. In France it's since January 2021 mandatory that all cars, heavier than 7750 lbs., must have these "blind spot" stickers. When all three are glued to the motorhome according to the instructions, it is time to walk again to the terrace of the Brewery. It is very busy on this warm Saturday evening and all the tables are occupied, but just when we want to walk back, some people are leaving and a table is available. After a friendly look at and talk with at the reservation-lady, we are allowed to take this table and, for the third evening in a row, we enjoy the excellent food of this brewery. And of course, the freshly tapped beer tastes excellent after all our efforts today. And again, it's warmer this evening. Now we can sit outside only dressed in a T-shirt. The beautiful steel blue sky, with which the day started, made way for more clouds, but a single ray of sunshine still manages to reach our table.
Early morning on Sunday, July 4th, it is raining so hard that, already at 7 am, the sound of the falling water awakes us. We had a deep dreamless sleep. After our breakfast with, now very old, bread (but the supermarket is closed on Sunday) the rain stops and we can dump our gray- and black water with only some drizzle and fill our fresh water with the watering can. By fog banks we drive to Luxembourg where we want to fill up with gasoil as it's cheaper here than in the neighboring countries.  When we arrive in Luxembourg the sun breaks through the clouds and we see some blue sky. Unfortunately, not long after, the sky closes again and every now and then some rain falls from a thick and gray cloud cover. But we just drove into France, and again a tear flows down my cheeks. What have I longed for the possibility to travel again in this beautiful country. Especially after a year travelling through our small country.
When there will be ever a possibility to travel to the USA again (now the US borders are still closed for European) I will cry like a baby.
Despite the fact that it is Sunday morning we see a lot of car traffic on the road and when I point Dick to follow a narrow road (other roads have restrictions) we are stuck by oncoming traffic almost every 30 feet. On the narrow roads in the French countryside and in the old villages, there is actually no room at all for a motorhome. The fact that we are now driving on a map is caused by Dicks Hakuna (GPS) that threatens to stop. On the itinerary in front of us are so many weight restrictions that, according to this Hakuna, it is impossible for us to reach the place we want to visit.
So, we ignore Dicks Hakuna and rely on my map reading and my Hakuna. Fortunately, we have two Hakuna's (I call our GPS: Hakuna as it means in the "Lion King": don't worry) and as my Hakuna doesn't care about weight restrictions we finally manage to reach the town of Hombourg Haut in pouring rain.
Next to the Netto supermarket is a large parking lot with at the end separate places for motorhomes. After a cup of coffee, we walk to the front of the closed supermarket. Here are washing machines. Because it is still raining, we park our motorhome next to these washing machines so that we can put our laundry in the large machines without walking and soon an 18 pound and a 40-pound washing machine is running. We are lucky, the rain has stopped and the sun shines again. While looking at the washing of our clothes and bed linen, we grab a few shopping carts to put our laundry in. When it falls to the ground when clearing out the washing machines, it immediately ends up in a mud slurry in front of the machines (it is not really clean here). But Dick, the most patient of us, carefully clear out all our laundry into the shopping carts and later into the huge dryer. Unfortunately, despite the 4 euros we put in the dryer and pressing on all the available buttons, the dryer doesn't heat up so after half an hour we pick up our wet laundry and drive back to the separate parking for motorhomes.
From the light pole to a wall behind us, Dick fastens a few clotheslines, where I can attach our laundry and soon everything is fluttering in the sun and wind. But not for a long time. Just when all the clothes are attached on the clotheslines the wind sends deep black clouds in our direction and not long after the first raindrops fall. Before the arrival of heavy rain, we bring in all the laundry and give this wet laundry a place everywhere inside the motorhome. It's a good thing I have a lot of clothes hangers. In the meantime, Dick spreads our socks and underwear on the dashboard of the motorhome. We hardly can move around. At the end of the afternoon the rain stops and the sun comes out again. But this late sun has insufficient power to dry so we just leave the laundry inside. The evening meal I prepare is much more modest than what we were used recently, but it fills our stomach and we don't have to go to bed at 10 pm with a rumbling stomach.
When we wake up on Monday, July 5th, it is still raining. While buying bread in the supermarket, I complain about the non-functioning dryer on their premises, but the manager says this machine is not their responsibility and I just have to call the phone number on the machine. We want to complain (don't understand why because nobody will return our money) so we call the number given on the washing machines, but after about 10 minutes we disconnect the call because we are still on hold.
After a good breakfast, this time with fresh French croissants, it is still raining so we stay in the motorhome. When, end of the morning, the rain stops and the sun breaks through the clouds, we walk to the medieval village of Hombourg-Haut over a narrow steep path. The town is completely extinct, the church is locked and to make matters worse, it also starts to drizzle. It's good we put on our rain jackets. At the end of the village, we visit the beautiful chapel and then walk back the same way. All other paths down the mountain, towards the motorhome, are closed because of an active oak procession caterpillar. Even with a drizzle we are soaking wet when we return back. We hang our wet coats between our still wet bedding and other clothes and decide to leave.
According to the weather forecast, this region is covered by a thick cloud band and it will not stop raining for a while. We look for another destination and the city of Liverdun seems nice. And yes, when we arrive there, only 53 miles to the southwest, the sun is shining. After parking the motorhome on a strip of grass near the river Moselle and next to the fence of a campground (incredible we can stay here for free), we walk to the center of Liverdun. Again, this town has a historic center and, like Hombourg-Haut, it is located on a mountain.
The narrow streets rise steeply and again we climb and climb but after a while we arrive at the top of the mountain and are rewarded with a magnificent view of the horseshoe bend in the river Moselle. It's beautiful and during a long time we stay here to enjoy the view. But finally, we descend again and talk with the residents of another motorhome who just arrived. After a lovely sun-drenched evening it is disappointing that the next morning it is pouring rain again and the sky is dark gray. Not really pleasant to walk to the bakery in the village so, after showering and getting dressed, we drive to a supermarket 3 miles away, where we buy a fresh baguette and have breakfast in the parking lot.
Then we drive on to Montbeliard, close to the Swiss border but also close to the town of Audincourt where my French family used to live. Because my parents naturally wanted to visit their family during the summer holidays, Hannah and I were introduced to the beautiful landscape of the Vosges for the first time when I was 9 years old and Hannah 4 years. But when we arrive in Montbeliard it is still raining so again we take our map, pick a new place and drive further west.
We stop in Besancon, but the parking here feels oppressive and it is still drizzling, so we drive on to the town of Quingey. Here is a large parking lot behind the Intermarche supermarket, where we can spend the night. Although we overlook a cardboard crushing machine and large piles of empty crates, we can do some shopping.
This place gets unbelievably quiet when the shop closes at 7 pm. Unfortunately, it takes until 9 pm before the sky finally breaks open. Then our motorhome stands in the middle of a rainbow and is beautiful lit by the evening sun.
Wednesday July 7th, we finally wake up again because sunbeams shine in our motorhome. How nicer the world looks when the sky is blue and the sun is shining. After breakfast with of course a fresh baguette, we drive to Dole. A town in the Jura and birthplace of Louis Pasteur. When we arrive at the huge parking lot on the edge of the town it feels good and we park the motorhome in a way that we have a beautiful view of the huge cathedral that towers over all the houses.
After loading some caches into our GPS, we walk across the river into town, which again demands a lot from our leg muscles because, here too, we have to walk up steep and narrow alleys to the imposing cathedral. We also visit a fountain that can be found deep under some vaults and over narrow slippery paths.
After a few hours of walking around we are thirsty and as the weather is finally good, we take a seat on a terrace in the small streets.
How nice, for the first time in a year, we can sit on a terrace of a cafe. After a refreshing coffee and Perrier sparkling water, we walk to the birthplace of Louis Pasteur.
Unfortunately, it's lunchtime so we can't visit the museum here. French love their lunchtime and so everything is closed for a couple of hours. At the end of the afternoon, we are back after almost 5 miles walking and we can just watch the climb of the Mont Ventoux in the Tour de France.
In the evening we walk outside again. We have to watch the take-off of a hot air balloon behind the motorhome and we want admire a huge metal dragon on a trailer (for two hours parked behind us and after that transported to a mystery forest). We both agree that the town of Dole was a good choice to stay. This time we go to bed late in the evening. The European football Championship is running and of course we have to watch the semi-finals. With all these sports watching we hardly read books.
Because we went to bed very late, we wake up at 8.30 am on Thursday July 8th. While buying fresh bread from the bakery in the old town I have a chat with the baker who is kneading new loaves. We actually wanted to stay one more day in Dole, but the sky is very threatening and rain is on its way, so we leave town and continue our way west.
In Chalon sur Saone we find a nice place to spend the night, again close to the center of town and with the possibility of dumping gray and black water. As always, we close all our window shutters (the sun is shining bright again) and walk to the old center. This town is pleasant to walk around and we enjoy the old buildings and the beautiful half-timbered houses. Of course, we also admire the enormous Cathedrale. Unbelievable how many churches were built in the past. One is even more impressive than another.
Again we take a seat on a terrace of a bakery in one of the narrow shopping streets where the cappuccino with cake is delicious. The owner is very happy that after the long Lockdown, tourists are visiting again. When we are almost home and want to watch a "jeu de boule" game near our parking lot, it starts to rain, again. At first, it's a drizzle but once we're in the motorhome it turns into torrential rain and I'm glad we're inside. Fortunately, the rain does not last very long and we can greet the sun again at the end of the evening. You hardly notice the traffic noise on this busy road, now that it is evening, so again we sleep like roses.
Friday, we wake up early and after our breakfast (with fresh baguette because I walked to the bakery) we fill up with clean water and leave town. Chalon sur Saone is a nice city but does not have such a charm as Dole so after our extensive city walk yesterday, we have seen it.
We leave for Issoire, a small town not far from Clermont Ferrand. The majority of the drive takes us over back roads. Only the last 20 miles we drive through the center of Clermont Ferrand and partly over the motorway.
When arriving in Issoire we are lucky because on this busy motorhome parking we occupy the second to last place and within 5 minutes the last spot is also taken. Later it turns out that it is not the last place at all because people also park their motorhomes in front of us.
But then it is already late at night. Many French people have the habit of arriving somewhere after 7 pm. Not that we mind because that means that we can usually find a place.
We always arrive somewhere between 11 am and 1 pm. After having a cup of coffee, we walk into the old town of Issoire. Again, a pleasant town with old, colored, houses and again an impressive Cathedrale.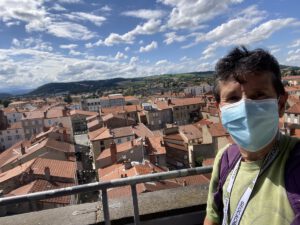 We enjoy our walk and when Dick walks back, end of the afternoon, I still climb the clock tower. Dick did not want to climb this tower at all (his knees are already protesting after our long 7 miles walk) but I can't resist taking a look at this nice town from above and it's definitely nice to look over the red roofs to the hilly environment made up of extinct volcanoes. After all, we are in the landscape of the Puy de Dome.
Back at the motorhome we buy some food at the supermarket next to our parking lot. It is always very pleasant when a shop is so close to a motorhome spot. In the evenings we finally read again and enjoy the evening coolness with all our windows wide open. It is clear that the holiday flow of foreigners has not started yet because we are the only foreigners here.
Saturday, July 10th, we wake up at 8 am. The sun is already shining brightly in a blue sky. It is not really warm yet, only 62 degrees, but it promises to be warm. It's time to grab our bikes again and soon we're climbing up by ever ascending roads to the surrounding hilltops. Even with our E-bike the slopes are not easy to climb. This is also caused by the fact that Dick's GPS only knows walking paths and we therefore regularly have to find our way up via narrow forest- and agricultural paths
Unfortunately, an old suspension bridge is hermetically sealed so that we cannot cross it and have to make a detour. Around 2 pm, after a lot of climbing and fortunately also some descents, where we're rush down with at least 28 miles per hour, we are back at the motorhome. The sky is now completely covered with clouds and the sun is no longer visible. Any moment rain seems to be falling from the threatening dark sky. But it's not cold, still 75 degrees and still dry so I decide it's time to do our laundry again. Packed with our dirty laundry and a wallet with small money I walk to the supermarket where the two washing machines and a dryer are located and start loading the machines.
It turns out that, again, I need a washing machine of 18 and 40 lbs. and soon I sit comfortably on a stool, that Dick has brought, next to the machines in the parking lot. I am glad that the dryer works well this time so around 5 pm we finished our washing and drying and we can cover our beds with clean bedding.
When around 8 pm another Frenchman arrives and parks his motorhome in a way that he blocks our exit, I tell him that we are leaving tomorrow morning at 8 am and we will wake him up if we are unable to drive out. I don't know or this will give him a quiet night but he stays.
Sunday July 11th (my mother, if she were still alive, would have turned 99 years of age today) we eat survival bread (it stays fresh for a long time). I bought it yesterday because on Sunday the supermarket doesn't open until 9 am and by then we are already on the road. When we leave, our blocking Frenchman is already outside with his car keys and ready to drive away, but he doesn't have to. By turning in a different direction, Dick manages to get out of the tight spot.
The Frenchman and his family can now park comfortably on our spot. Of course, we dump and fill up with clean water and then drive onto the back roads. Via a huge detour we end up in Clermont Ferrand where we cross the city center again. Traffic light after traffic light is red. Here they never heard of a green zone. Finally, we leave the town of Clermont Ferrand behind us and continue our journey through the interior of the Auvergne. The terrain is very hilly because the landscape is dominated by the many volcanic domes. After driving straight through Limoges, we arrive in Oradour sur Glane.
This town is preserved as a monument because of the horrors of the Second World War. On June 10th, 1944, all the inhabitants of the town were robbed of their lives and a walk in this town shows life that stood still from one moment to the next.
We already visited this town a few years ago, but such places deserve a repeat visit and now, in the middle of the summer with a temperature of 79 degrees, we walk again through this ruined village. We see a difference with 5 years ago. The sun is shining and there used to be a sewing machine at every ruin, but nowadays, almost all of them have rusted away. But walking around here does take you back to the horrors of war.
At the end of the afternoon we walk back to the parking where it is getting busier with entering motorhomes.
We have a nice chat with our neighbors, actually Dutch people, and sit in the shade of our awning. And the beer also tastes good because the thermometer still shows 76 degrees.
In the evening Dick watches the football final and I chat, via facetime, with my friend Susan in the USA.
It cannot be a bigger contrast in terms of weather when we wake up on Monday July 12th.
The sky is gray and it's raining. No weather to stay around, so after our breakfast with bread and a fresh egg, we drive further west to the town of Rochefort, in the pouring rain and on narrow back roads. In Rochefort we look at a few places where we can park and finally, we arrive at a parking next to a harbor in a residential area, with enough space to park. When our motorhome is standing, we walk into the center. Actually, we walk along the partly dried up tidal river that leads to the center of the town and we pass an enormous palace. It is very busy everywhere and later it turns out that this is due to some attractions along the waterfront where whole families walk around.
I love to enter one of the attractions, an old ship where, via ropes, you can climb up the masts to the highest peak before sailing back to the deck of the ship. But it's so crowded here that we skip this attraction. But we take a walk into a labyrinth, of course with a medical mask because here it is unavoidable that you come close to another person. After wandering around for a long time along the riverbank, we walk back. There are no shops in the area, so for dinner we have a simple meal, leftover mashed potatoes, sausages and tomatoes. Before leaving for this trip with our motorhome we bought Canal Digital (satellite tv), so we can watch TV in the evening. The news is not really good because the Corona-infections in the Netherlands are increasing fast, mainly caused by parties and festivals.
Although we wanted to stay another day in Rochefort we are going to leave if it turns out that, when we wake up on Tuesday July 13th, the sky is dark gray. The first raindrops will fall soon and are expected to last for almost the entire day. So, after breakfast with freshly baked baguette (the bakery is less than 200 feet away) we drive towards Brittany. According to the weather-forecast, Brittany is currently the only region in France where the sun shines brightly.
In Marans there is a parking lot at a supermarket but it is still raining so we drive on to L' Aiguillon sur Mer where we also find a place to stay at a supermarket. The motorhomes stay close to each other but we are getting used to it. In any way, we have a view over the entire parking lot and the town is not really far away.
After doing some shopping and buying a piece of cake, it is after all our 43rd anniversary, we walk towards town. We actually wanted to walk to the coast, but it soon turns out that to get there you have to walk at least 7 miles (one way) so we limit ourselves to visit the river and the center of town.
It is always nice to walk along a tidal river and look down on the muddy bottom. Although the weather is not really nice yet, it is not raining and with 65 degrees it is quite pleasant to walk. Back at the motorhome, Dick is watching the Tour de France while I, again, take a detailed look in the Supermarket. I love those French supermarkets, I've missed them so much last year.
There isn't really a restaurant around, so I cook, well cooking, the soup, yes, I have to cook it, but the carpaccio with lettuce and baguette requires less of my cooking and neither does our dessert with yogurt. Motorhome after motorhome arrives during the evening and soon there are more than 35 in this small parking lot.
Wednesday July 14th it is still cloudy but there is no rain and after breakfast with a delicious freshly boiled egg, we dump our gray and black water and then we leave again. On our way to the sun in Brittany. During our ride we change destinations a few times, but then, Guerande is set as our final destination where we arrive at 13:15 pm. The parking here is very busy but there are still some spots available and after we parked, we walk into the walled city of Guerande. We were here too a few years ago, but this town is so beautiful that you want to go back every time.
When we arrive at the big city gate we have to put on a mask. This obligation still applies in France. Not only indoors but also outdoors when large groups of people gather. And that is the case on this national holiday of France. Everywhere people walk through the narrow streets of the walled city and everyone enjoys the sun and the blue sky.
Finally, we arrived in a part of France where it no longer rains. We look at a few restaurants but the food is not so tempting that we really want to have dinner there tonight so on the way home we buy food at a supermarket and cook ourselves. The cauliflower with mashed potatoes and a burger tastes delicious.
Thursday July 15th, we stay in Guerande. This time we want to cycle around through the salt fields. The cycling is going well and we ride on very narrow and bumpy paths over completely deserted plains, but the famous salt fields are nowhere to be seen. We've taken the wrong way. But we have a nice trip and enjoy the warm sun and the silence around us. That silence is hard to find when we return to the parking. It is even busier than yesterday and every possible patch of grass has been taken by a motorhome. By 8 pm there is really no parking place anymore and that while a stream of motorhomes is still advancing. After registering the caches we found, we watch the Tour and the news. In Germany and Belgium, but also in the extreme south of our country, are massive floods due to the continuous rain. Somehow I am glad that we escaped the rain and drove further and further west.
Because I don't want to leave Guerande without having a look at the salt fields and we want to buy salt with herbs for Hannah and Henk (they liked this salt we bought last time) we first drive to the salt flats on Friday morning after breakfast. Yesterday evening we searched the internet to see if we could find the sales point for salt and yes
, we found an address where it could be located.
When we arrive at 10 am it is indeed the shop we were looking for and after buying bags of salt Dick gives us a sightseeing tour through the salt fields over very narrow roads. Fortunately, it is not very busy and we can swerve in time for oncoming traffic. Finally, we are on our way to our next destination: Brest, in the far west of Brittany. After a few back roads we arrive at the Route Nationale which takes us directly to Brest where we arrive at 2 pm. We are looking for a filling station for propane, but when we arrive in the harbor area it become clear soon that although there is propane, we cannot fill up our tanks here, so we drive on and look for a parking. Standing along the harbor we can forget with this beautiful weather and in the parking lot of the aquarium it is not really attractive so, after deliberating, we drive on to Le Folgoet, a town with a monumental 15th century Basilique where we are allowed to stay overnight.
Unfortunately, there is not much to see outside the Basilique and the town is dead quiet so after a walk we read our books. We have to get used to the enormous space here because for the first time in weeks, only a few motorhomes are parked here and we stay so far apart that at least three other motorhomes could have parked between the motorhomes.
Saturday July 17th, we wake up by the silence of this parking and after eaten a fresh baguette we leave town and drive via narrow back roads to Morlaix. When I made an itinerary for our travels in September 2020 (a schedule we were never able to drive because France was red colored by Corona and therefore, we were not insured when we should go anyway) I wanted to visit this town because of the large aqueduct and the beautiful half-timbered houses.
When we arrive at 11.30 am it is very busy in town because of the market on Saturday morning and in a huge traffic jam we find our way to the car park at the Carrefour.
Actually, one spot is available but we have to squeeze between two parked motorhomes. With very little space between us on both sides, we are lucky to be significantly longer than the other motorhomes so we can open our entrance door well. Otherwise, that might have been a problem. Not the tight space we are parked in because we are now used to little privacy. After checking whether there is still a place elsewhere, which is absolutely not the case, because it is a coming and going of cars that want to get a parking spot, we lock the motorhome and grab our bikes to explore the area.
It is not easy to cycle here because immediately outside the center of town the roads and paths go up steeply. 18% Incline is not an exception and we are really happy with our E-bikes. But even with an auxiliary motor on our bikes it is hard to climb up. Luckily, we can also descend the slopes regularly. Finally, we leave the city, pass the marina and are on our way to the bay. A deadly boring road, but Dick finds a detour via the hiking route GR 34 to a church on top of the mountain. The way up is not really suitable for cycling, it has a gradient of 19% and the path consists of boulders so we are unable to cycle all the way up but with a lot of climbing we manage to get to the top of the hill. After visiting the church and lightning a candle we descend again and arrive at the river. The road makes us decide not to continue cycling and we turn around. Not bad because now, as soon as the bikes are stored in the motorhome, we can walk around the beautiful town of Morlaix.
The market has ended so there is less traffic and more space to walk around the center. Slowly we wander through the narrow streets with the beautiful half-timbered houses, some centuries old and of course we admire the enormous aqueduct which is clearly visible everywhere. Because we still have some leftover food, we decide to eat in the motorhome. Tonight, with our tarte flambé, dinner is not a success.
On Sunday July 18th, like almost every day, we get up at 8 am. Because the supermarket opens at 9 am, we have breakfast with survival bread and afterwards we drive further east. At the end of the morning, we arrive in Tregastel. Although there is a large paid motorhome parking next to the beach, we look for a place in the parking lot of the Supermarket where again we squeeze ourselves between other motorhomes. This time we have even less space to our neighbor because when we want to close our entrance-door, our neighbor has to close his window. But we have a spot near the sea and it's free, so we're not complaining.
Because the shops in France close at 12 am on Sunday, we do some shopping so we can eat dinner tonight. And then it's time to wash our clothes and bedding again. On this parking lot is a separate house with a number of washing machines and dryers and because only one machine is in operation, we have plenty of space to fill the other machines with our laundry. While I keep an eye on the machines, Dick regularly walks back to the motorhome, but when he is needed, for example to put laundry in the dryer or help with folding the dried sheets, he is back at the laundry house. I'll never understand how he can time his presence like this.
At 2 pm all our laundry is dried and stored again, we have a freshly covered bed and we walk to the bay of Tregastel. It is a less than 650 feet walk to the beach and because it is low tide, the sea is not visible in the far distance. We walk over the hard dried sand to the rocks on the other side of the bay. These consist of pink granite and are beautiful, fierce and sometimes piled up so high that you have to make quite an effort to climb all the way to the top. We stay at the foot of the rocks for most of our walk, although sometimes we, especially me, can't resist climbing up the rock.
After a few hours we walk back over the beach and at home we follow the finish of the Tour de France. Now that the supermarket is closed, there is not a living soul to be seen here and it is very quiet in the parking lot. There are only 25 motorhomes parked to spend the night.
After dinner I walk to the bay to watch the sunset. Ever since I was young, I have found that to be a magical moment and I watch it whenever I can. Always alone, because Dick doesn't like sunsets (they're all the same) so alone I enjoy the sun that slowly descends. Unfortunately, there is no water in the furthest distance, the sea has retreated even further than this afternoon.
It is really quiet. Only some other people, also sun fanatics, stay on the rocks, but nothing else can be heard. I don't have to tell you that, after all the biking and staying outside for so long (I return home at 11 pm) I sleep like a marmot.
Monday July 19th, we have breakfast with delicious fresh croissants. Logical if you are less than 200 feet from a supermarket and then we take our bikes again. Even if there are threatening signs everywhere in the parking lot that long stays are not allowed, we think they will not blame us for sleeping here for two nights.
This morning we printed out a map of the area so we can explore the different bays. We regularly stop to look for a cache. Sometimes this is not easy because we have to climb over several boulders to find one, sometimes it is within reach, such as close to the large Menhir, reminiscent of Asterix and Obelix, in a residential area.
At the end of the afternoon, we are back at the Bay Saint Anne where we stay close by. Finally, there is water in the bay. Now we know we couldn't have done our walk yesterday at high tide. You know that I love snooping around in foreign supermarkets, so I walk across the street while Dick stores our bicycles. In the evening we see on TV that the Netherlands is colored red because of the high Corona infection rates. If we want to travel around in France, we must have a "lettre honneur" so we print it out and fill it in. When the police stop us now, we can, in addition to our proof of vaccination, also show this letter, in which we declare that we are not bothered at all by Corona symptoms.
Tuesday July 20th, we have breakfast with fresh baguette before we leave. We have to wait a bit for that because the bakery opens at 8.45 am, but we have plenty of time. It actually works out well because one of the sealing strips of the roof window of our motorhome comes off, so after breakfast Dick can walk to the Brico hardware store to buy glue.
Finally, everything is fixed again and at 10 am we leave Tregastel and drive to Plevenon. On the way we stop at a motorhome dealer to ask if they know where we can fill up with propane. It appears that refueling propane is no longer possible in France. At the supermarket you must buy a tank of propane or butane and when it is empty you exchange it for another. So, for nothing we rushed to the far west of Brittany to refuel with propane. Now there will be no choice but to buy a French propane tank one of these days. We will not make it with our current stock until the end of our vacation. There is more than enough parking space in Plevenon. However, all empty places are in the full sun because the places under the trees have all been taken.
Our experience is that it cools down sufficiently towards the evening and night, so we don't mind standing in the full sun and we look for a nice spot.
After having a drink, we grab our e-bikes and drive to Cap Frehel. A beautiful trip, partly along the coast, where the fields are dotted with purple and yellow flowers. What a beautiful view. When we arrive at the Cap we lock our bikes, remove the valuables, put them in my backpack and then walk to the Cap with dozens of French tourists. A beautiful walk because we regularly have a nice view of the jagged cliff walls that lead endlessly deep below us. We walk around on the Cap for at least two hours, take pictures and enjoy the sun and sea breeze. Rock cliffs continue to fascinate.
When we return to the motorhome end of the afternoon, the parking is still empty but around 10 pm all the empty spots are taken. I myself would have no rest to arrive so late and would be afraid that there was no place left to spend the night. Our Belgian neighbors arrive. They have their entrance door next to ours so we start chatting and have a nice evening.
We talk about travelling in Corona time and exchange experiences. We chat until at least 8 pm and then we cook and have outside a delicious quick meal of rice with chicken, tomatoes and cucumber.
At 9 pm when the sun disappears behind the horizon, it becomes considerably cooler and we go inside. Finally, I can sit behind the computer to write down our experiences.
Wednesday July 21st we get up at 8 am and of course I walk into town to get a fresh baguette. The walk isn't far and it takes more time to wait in line until you can enter the bakery, but at breakfast we enjoy our fresh baguette. We drive to Saint Malo on narrow back roads. It's still morning when we arrive so there is still plenty of space in the large parking lot along the beach and we park our motorhome. Then we take the bikes and drive to the center of Saint Malo. We have good memories of a restaurant inside this walled city. After locking the bicycles outside the city wall, we walk (of course with a medical mask) into this picturesque city center.
No matter how often you walk in and around Saint Malo, it remains a beautiful city surrounded by high city walls. We don't have to look at our map because Dick knows exactly where to walk and at 12.30 am, just before the big crowds arrive, we have a table on the terrace of Cafe de la Bourse. A table for four people, because the one for two people is in the full sun and with temperatures of 88 degrees Fahrenheit, that is no fun. On the other hand, it is wonderful to sit in the shade of a large parasol. We order a menu and also a carafe of wine and a little later we enjoy the excellent food. It is worth coming to Saint Malo for this meal alone.
After our meal we continue walking through the town, over the city walls and the beach below. That does not always go smoothly because we now notice that the wine is sinking into our legs and we have to climb up and down endless numbers of stairs.  But we spend a wonderful afternoon on and within the walls of Saint Malo and then leisurely cycle back to our parking lot that is completely overcrowded. There is no more space available, cars and motorhomes are completely built-in and no one can go forwards or backwards. Too bad for all those people who are constantly looking for a parking spot. In the evening we are still full from our lunch so we eat nothing except a few pieces of bread with Gruyere cheese.
When, in the evening, I walk to the beach, less than 270 feet away, I see, everywhere on the beach, families having a picknick and waiting for the sunset. The temperature on the beach is at least 10 degrees higher than in the parking lot, where it is 65 Fahrenheit due to a chilly wind. Around 10 pm, after a beautiful sunset, it finally becomes quiet in the parking lot.
On Thursday morning there are not so many beachgoers and after having breakfast with a fresh baguette, we can turn out easily and drive away. Via the coastal road we go to Pontorson. It is only 34 miles away so we already arrive around 11 am. After parking the motorhome, Dick visits the supermarket to buy a new tank of propane while I look for our dirty clothes and bedding. Yes again I want to do our laundry.
The new French propane tank (with butane because they run out of propane) turns out to fit well and after our empty lightweight tank is placed in the garage of the motorhome, I walk to the laverie (laundromat) where only two people are washing so two more washing machines are available. I kill the time that I have to wait by chatting with the locals. When Dick is done with all the propane exchange, he brings me a bottle of water and helps me folding our laundry. Around 2 pm we have a clean bed; everything is stored again and we can make a pleasant walk through the town of Pontorson. And not only that, we are in the parking lot of a supermarket so when we get back, I walk around in the Carrefour and have a look around. At the end of the afternoon the thermometer shows more than 88 degrees so it's too warm to sit inside. Normally it's not done to sit outside on a parking lot, let alone that you eat outside but with these temperatures nobody says anything about it. Our dinner, consisting of ham, a huge salad and baguette tastes very good.
Friday, July 23rd, the weather changed again. There are considerably more clouds in the sky and a strong wind is blowing. Today it's only 75 degrees.
We drive on our e-bikes to Mont Saint Michel. Even though we have been here several times, a visit to the Mont remains magical for me. Again and again, we enjoy the view of this huge rock in the sea with its old houses, narrow streets and the abbey church towering above everything. From Pontorson a cycle path runs along the river to the Mont and the last 1.5 mile we walk over a wooden bridge, along with many other tourists, to the island. We can keep enough distance from others, something that is an almost impossible task in the narrow streets of Mont Saint Michel, so there, inside the walls, everyone wears a medical mask.
When we climb up and down the stairs, we soon find out that with 75 degrees and a medical mask on, that is less successful. It's hot and stuffy. But a mask is mandatory to wear so we are not complaining. After crossing the entire island, we slowly walk back over the long bridge to the mainland where we drink a cappuccino on a terrace, away from the crowds on the island, before we cycle the 5 miles back to Pontorson. The temperature dropped to 72 degrees and there is also a strong wind blowing so we stay in the motorhome, read and enjoy the wonderful day behind us.
Saturday July 24th we don't get up until 7.30 am and we don't leave Pontorson before 10 am. After all, before leaving, we have to dump our gray and black water and fill the water tank with clean water. That means that we don't arrive in Cherbourg until 1 pm. We always had enough space to park here, but now, in the middle of summer, that is quite different. Every possible spot where a motorhome can park, is occupied.
But after half an hour we manage to find a temporary spot by standing next to a parked motorhome, almost on the street and are really lucky that an hour later someone leaves and we can stay on this parking.
The weather is definitely upset because after all the sun-drenched days of the last two weeks the weather is now gray and cloudy and when we want to go out in the afternoon it starts pouring rain. Fortunately, a dry period arrives at the end of the afternoon so that we can still walk around the town of Cherbourg. We don't keep it dry on this walk and have to shelter from the rain in the center of town for about 10 minutes before we can finally continue our walk. It was raining too hard.
But after a thunderstorm the weather clears up again. Motorhomes around us are going and coming and there's one parked everywhere. The presence of the Cité de la Mer behind the parking is also to blame. Lots of people are visiting this place because who does not want to experience the last hours of the Titanic, see the departure hall, visit the French nuclear submarine "La Redoutable" or look at the aquaria. In the evening we have a simple meal again, salad with baguette, but it tastes good and I don't have to cook.
On Sunday July 25th, the sky is completely gray. The temperature dropped to 64 degrees and walking with long pants is preferred. Although it is not completely dry and every now and then there is a drizzle, it is still possible to make a walk in town and along the harbors. In the afternoon, after a 7 miles walk, we are back in the motorhome. With a new outdoor mat. Stupidly enough, I left the old one in the parking in Pontorson, but luckily the Brico hardware store is open on Sunday mornings and they had nice outdoor mats. At the end of the afternoon the weather finally clears up and we see blue sky again instead of gray clouds. We walk back to the center. Now to find a place to have dinner. Unfortunately, the Kebab restaurant is on vacation, but we do see another restaurant, on the corner of the harbor. When we take a seat on the terrace, we feel a cold wind so it is not really pleasant here and we leave. Other restaurants, more sheltered, don't have what we want to eat. After all, you have to constantly keep in mind that your dish does not contain guts or brains and we are not really lovers of mussels and oysters. Finally, we walk back to the motorhome and eat a burger with oven potatoes.
I finished reading all my Dutch book stock, but luckily, when we were driving around in Germany, I found a thrilling book in a bookstall "Die Mumie" so the rest of the evening there is silence in the camper. Dick also has a book by John Grisham he won't put down.
Monday July 26th, we get up with a steel blue sky and sun, even though there are some clouds on the horizon. We still have some bread and because the bakery in the center has a broken stove and is therefore closed, we decide to eat this leftover survival bread. Before leaving Cherbourg, we dump our gray and black water, fill up with clean water and then drive to Barfleur.
Because that is only a 20 mile drive, we arrive early and find plenty of parking spots. This motorhome parking is located on the edge of the beautiful town of Barfleur, next to the sea. Unfortunately, this sea is not visible from the motorhome parking because of the high wall at the end of the beach and rocks. For us that isn't really problematic because we don't stay in our motorhome and when we want to see the sea, we can always climb up the wall and look out over the sea. We visited Barfleur a number of times, but never in the middle of summer and with blue skies and warm temperatures this town has more charisma and definitely belongs to the most beautiful French villages.
A multi cache takes us to different places in town and we enjoy the harbor with its receding water. The boats in the harbor are still in the water, but due to the falling tide, the water in the harbor runs out and the boats runs dry. A view that always fascinates us.
When we return a few hours later after a long walk, all the boats are indeed on dry mud and also outside the harbor, in the bay, is the beach now miles wide. In the distance we see a large number of boats, sailing back and forth with in the background the third highest lighthouse in France, the Phare de Gatteville, towering above everything. Around 5.30 pm we walk to town to look for a restaurant. We are not yet used to the other meal times in France where you can only have dinner after 7 pm. Some terraces are even closed from 6 pm till 7 pm to get everything ready for dinner. After sitting in the sun on the harbor quays and waiting, we find a table at Café de France, but because the kitchen is out of order due to a malfunction, we leave again and find another restaurant where we have good food. The Fish and Chips are very tasty. No wonder because this fish comes straight from the sea. After the very good meal we leisurely walk back home and soon I can no longer read the letters of my book clearly and fall asleep.
Tuesday July 26TH, we don't get up until 8 am and after buying a fresh baguette in the town, we have breakfast and then take our e-bikes to cycle along the coast. Our geocache route takes us over very narrow hiking trails along the rocky coast and sometimes we even have to make a detour and get further from the coast, because the path is so narrow and overgrown by weeds that it is impossible to get through by bike. The weather is gloomy, there are lots of clouds and it's gray but it is still 62 degrees and there is no rain.
Although the landscape along the rocky coast with many small bays is beautiful, Dick doesn't like it here so much as I do. This is mainly due to the overpowering rotting algae smell. I think that suits the sea, but Dick clearly has a different preference. After a good ride we return to Barfleur in the afternoon where we can't resist the delicious French pastries.
The sun has opened the sky, it is 70 degrees and nice to sit outside. This time we don't walk to town before 6.30 pm and as the kitchen of Café de France fixed the malfunction, we can now have dinner there.
The raw "steak tartare" is a bit hard to swallow, but mixed with raw egg, capers and onion, it tastes good. Unlike yesterday when I slept like a rock, I now wake up in the middle of the night and enjoy the sweeping light of the Phare de Gatteville, just visible above the seawall.
Wednesday July 28th we drive to our next destination: Cabourg. There is a strong wind but the sun is shining and the thermometer shows 62 degrees. Again, we follow the Route Nationale to Caen where we get stuck in a traffic jam, choose a detour and then arrive at the parking lot of a supermarket where more than enough space is to park. When the motorhome stays in a spot, we both like, across 5 parking spaces, we drink coffee as usual and then take the bikes to explore the center of Cabourg. Everywhere are large impressive villas and mansions, built like an arena around the Grand Hotel on the boulevard. We marvel its grandeur. It feels like you have stepped into another era.
We also take a look at the boulevard. Of course, it is also mandatory, as in so many other places in France, to wear a medical mask outside and we have to walk next to our bikes because the entire city center is closed for all traffic in favor of walkers. Unfortunately, the clouds increase so when we arrive at the boulevard, we are faced with a gray sky and a sea pounding on the coast. At the end of the afternoon, when again Dick has stored our bikes and we keep talking about the imposing villas and mansions in Cabourg, I walk, of course, to the Carrefour. These huge French supermarkets are not as big as Walmart in the USA, but in the Netherlands, we still don't have such supermarkets, where you can buy almost everything. Because we are parked at least 1.6 mile from the center of Cabourg, I cook in the evening and Dick says that's good too.
Thursday July  29th we move on. We visited and admired Cabourg and are ready for a new environment. The sky is blue again and the sun is shining but the temperature does not rise above 66 degrees. We drive to Honfleur. Because part of the inland road is forbidden for cars heavier than 7750 lbs., for the last few miles we have to take a toll road and arrive in Honfleur at 11 am. There is more than enough space to park and we find a nice spot with electricity and some space to our neighbors.
This is our last stage on the West coast so we decide to walk to the mouth of the Seine until we arrive under the impressive Pont de Normandy. It is a good walk and we are lucky with the weather because the sun is shining and despite many clouds, we regularly see blue sky. The distance to the bridge is a bit further than we thought, but there is enough distraction from passing boats and the rising water. Slowly we see the boulders along the riverbank completely disappear under water.
On our way back we walk into the town of Honfleur. Many tourists love to visit this picturesque town because it's really busy in the small streets. For the first time since the Corona outbreak, we see tourist arriving with buses. After having a nice look around in the center, we take a leisurely walk back. At 7 pm I walk back to town, now armed with cooling bags in which I pack, a little later, our delicious kebab meal. We enjoy this food in our motorhome. The parking with place for 240 motorhomes, is now quite full. Friday July 30th,I don't have to walk to the bakery because the bakery arrives at the parking around 8.30 am and his car park next to our motorhome. What a luxury to start the day like that. After having a good breakfast, we fill up with water and dump and then leave the coast behind and head inland. On the road it is quiet and even when we drive through the city of Rouen there is not much traffic. At 1 pm we arrive in Beauvais where a wonderful blue sky awaits us.
Unfortunately, during the afternoon the clouds get the upper hand and so we walk under a gray sky to the Cathedrale of Beauvais, the highest cathedral in the world. The construction of which started in 1225 and was finished three centuries later. Although finished? It looks unfinished and that's right because parts of the church were never completed. But it is an imposing building and actually we have never seen such an impressive cathedral. Of course, we walk inside where another surprise awaits us: L'Horloge Astronomique, an astronomical clockwork with an impressive size: 40 feet high, 16 feet wide and 10 feet deep, some weights hang down to a depth of 10 feet.
Because we want to know more about this clockwork, we buy tickets and a little later, via the audio guide, we learn how this "Horloge" was made and what there is to see on the monumental clockwork.  A true work of art built between 1865 and 1868 which not only shows the different times and moon phases but also tells the story of the Last Judgment. We follow the story, look at all the different images and many figures and are impressed. It is likely that in the second half of the 19-th century such clockworks came into churches to reconcile the advancement of science with the traditional evangelical message.
At the end of the afternoon, we leave the Cathedrale again and slowly walk back to the parking and our motorhome over the large square in the center. Unfortunately, the restaurants in the area of our parking are closed, so we buy tasty ingredients for an evening meal at a super Carrefour across the street.
Saturday is already the last day of July and after breakfast we leave Beauvais. We loved it to be here, it was special. Slowly we drive to St Quentin in the north of France, where there would be a parking for motorhomes next to a supermarket. But when we get there, we don't see anything that resembles a place where we could park. On the contrary, during our search we get stuck at an overpass that is too low to drive thru, but luckily Dick manages to turn the motorhome and with a lot of maneuvering and backing up on a one-way street, we get back on a normal road.
We decide to drive on to Laon. There is a nice parking at the foot of the walled medieval city. It's better to stay here than in Saint Quentin. Getting there was not easy because Dick decided to follow his Hakuna and that hakuna said we had to drive straight through the medieval city, so Dick had to maneuver through all the very narrow and hilly streets of Laon over pebbles with sometimes on both sides of the motorhome hardly any space left so I think we cannot pass but we cannot drive backwards either. Of course, Dick manages to continue unscathed and after a nerve-racking ride we reach the outside of the city wall.
In the afternoon we walk through the same narrow streets, enjoy the warm sun, have an ice cream and of course we also visit the large Cathedrale.
In the evening we return to the small streets
, walk around again, enjoy the different music artists, look at the windows of the small shops and search for a place to have dinner. We find a restaurant with a menu that appeals both of us and at 7 pm we have a table and a glass of wine and enjoy our three-course meal. It is very good and that for only 18.80 euro a person. At the entrance of the terrace, we are not yet asked to scan our QR code (prove of vaccination) in contrary to the restaurants in Normandy. After dinner and again listening to some street artists, we walk back downhill. All 6 available parking spots are now taken. It is really quiet outside and we sleep like roses.
Sunday August 1st, we wake up before 8 am and after having a shower we leave. We have breakfast at a supermarket where we also do some shopping for our meal tonight. It's not so easy to find a shop we can easily reach (the parking of one supermarket had a 7-foot-high passage and was therefore not very suitable for our 10 feet high camper and another supermarket was closed on Sunday). But finally, we shop, have breakfast and drive further east.
We stop in Rozoy sur Serre to dump our black water before arriving in Liart in the North of France, where our friends Cor and Esmé have a beautiful country house in the French Ardennes. When our motorhome is parked in the driveway and the levelers are out, we drink coffee together and chat. Then the men go to work. A concrete hole in the garage floor must repaired and soon the concrete mixer is running at full speed. Esmé and I are chatting and of course we regularly check the men at work. The day flies by.
After Cor and Dick had their shower and put on clean clothes, we have a glass of champagne (tastes very good and comes from winery St. Martin in Remich) and Esmé and I start preparing dinner. Because the sun is shining and it is not cold, we enjoy our evening meal on the terrace. The meal of baked potatoes, cauliflower, a burger and sausages from the BBQ tastes good. We chat until late in the evening and only because I suddenly have to yawn and can't stop yawning anymore, I notice that it is already 12 pm. Under a beautiful clear starry sky we walk to our bed where we roll in and directly fall asleep.
Unfortunately, I can't buy bread on Monday, August 2nd , because the shop that is selling bread, is closed today. The nearest village is really small and has only one shop. So, we have breakfast with some leftover baguette, which, warmed up in the oven, is still tasty and of course we have fresh survival bread.
After breakfast, Esmé and I wash up and chat and the men start their next job, installing a new door upstairs. Not really easy because the old door is crooked quite a bit and part of the wall need to be demolished before the new door can be hung in.
When the men are working and Esmé is reading, I take my laptop to write down our experiences and spend a great part of the day on this. Unfortunately, it is very cloudy and it regular rains, so I cannot sit outside but when the men have finished their job and took their shower at 5 pm, the weather clears up and the sun is shining again. Just in time to enjoy a glass of wine outside on the terrace. With a simple meal consisting of chicken in tandoori sauce, rice and tomatoes, we end two pleasant days together and on Tuesday August 3rd, after breakfast, we drive back to the Netherlands. We don't like coming home late in the afternoon, so we stay one last night in Bergen op Zoom.
It is clear that motorhomes crossed our border because on the boulevard are still a few free parking spots, even this late in the afternoon. It's already 4.30 pm and normally at this time is no place available. This can also be caused by the colder weather. The sun is shining bright but there is a cold wind blowing and it's not really warm, only 64 degrees.
After a good tasting Chinese meal and a nice walk on the boulevard, we spend the last night for now in our motorhome.
Wednesday morning, August 4th, we drive the last 50 miles of this holiday. At home, we only have the task of unloading the camper, cleaning it completely inside and outside, doing countless washings and find good places to the enormous amount of stuff that leave the motorhome for a while. We have plenty of time for that because tomorrow we will bring our motorhome to the storage. For the first time in a year, we left home for 5 ½ weeks and could finally leave our small country. We drove 2510 miles, cycled 220 miles, walked 95 miles and found 250 geocaches.