We take a break again
End of February to end of March 2022
Actually, we supposed to leave later this week to have more time, but because tomorrow is 22-02-2022, a palindrome day, we decide to leave earlier, on Monday February 21st. That means we have to make plans because I have to go to the hospital in Leiden at 8.30 am for my annual melanoma check-up. Of course, we arrive much too early, but because of this I 'm called earlier and so we arrive already at our motorhome storage at 9.30 am, earlier than we agreed.
Our motorhome is therefore not yet outside, but Bettie is kind enough to drive it outside and so we are much earlier at home than planned. It rained all the way home, but now we want to start loading, the rain stops so we can transfer all our stuff dry and that's quite a lot.
It takes a few hours to give everything a place (Yes, I know, I'm taking too much) and after filling the fridge, we lock our house and drive to Bergen op Zoom. This is always a favorite overnight spot if we leave late. After the storms of the past few days, it is very quiet on the boulevard. We are the only motorhome and park it in the sun. Unfortunately, the mini library near the supermarket has been emptied and we can't exchange books, but I buy a noodle dish we can eat tonight with some leftover meat and beans. Of course, we also walk to the inland lake. The otherwise calm lake turned into a raging sea and the waves crash on the shore.
Tuesday February 22nd we wake up early and after a breakfast with fresh croissants, we leave for Belgium. First, we visit the town of Opwijk where we want to find some geocaches. Some are easily accessible, but two of them are placed on very muddy farm path into the meadows and before walking 150 feet on this track we sink down to our ankles. We should have put on boots but now it's too late.
Back in the motorhome I grab a brush and at a puddle of water I scrape the worst mud from our shoes. The rest of this holiday we will walk with dirty shoes because many tracks just stick to it. That means that when we drive to one of the oldest caches in Belgium, which is hidden in the middle of the polder, we put on boots anyway. To get close to the hiding spot, Dick has to maneuver over very narrow paths. It just works, but parking is only possible at the exit of a farmer's path.
That means that I walk the track alone and Dick stays in the motorhome in case a farmer wants to pass just now. Fortunately, to find the geocache I only have to walk half a mile. I do have to make my way through deep puddles of water and mud, but after half an hour I'm back and we can drink a coffee before we drive to our final destination, the town of Melle.
It is a bit uncertain whether we can return to civilization again when our front wheel ends up in the mud because we have to give way to a parked vehicle. The wheels spinning in the mud next to the path but finally Dick manages to get the motorhome out. Fortunately, soon we reach a normal, slightly wider path through the meadows and then we can park the Frankia near the center of the town of Melle.
We definitely earned a cup of soup but after this we walk into town. Unfortunately, the weather is gloomy and gray and with only 39 degrees Fahrenheit on the thermometer it is not warm but our down jacket, with a rain jacket over it, keeps us warm enough. Unfortunately, tonight we can't eat at the bistro in this town. This eatery is full with wedding guests. Not really surprising because this special palindrome date is a desired wedding day.
So, we walk back to the Frankia, have a drink and early in the evening we walk back to the center to eat something at the friterie (a snack bar). The food here tastes good, especially after all the fresh air and the cold today.
At 7 pm we walk with a full belly to the other side of the street. There is a geocache event. Such events are organized on special days and since we should be around today, we registered for this. It is busy at this "Meet and Greet". There are at least 60-70 geocachers present and soon we are talking to different people. Anyone who wants can have a drink, both alcoholic and non-alcoholic refreshments are available and time flies. Apart from the separately packed Belgian chocolates, you wouldn't say it's still Corona time because the 5 feet distance among those present is not always used. Fortunately, we are vaccinated and boosted and the Omikron variant is a little less threatening.
The weather is quite pleasant in the evening, around 42 degrees and with little wind and no rain, we keep talking for a long time, but around 9.30 pm we say goodbye to each other. The way back is less smooth. Partly because of the many walking today, followed by a few hours of standing outside talking, our muscles have become quite stiff, but via some narrow paths behind the beer brewery where "Delirium Tremens" is brewed, we arrive back home after 10 minutes. We'll crawl under the wool soon.
Wednesday February 23th we get up at 7.30 am and after showering I walk to the Carrefour Supermarket around the corner to buy baguettes (French bread). The sky completely opened and under a steel blue sky we drive towards the French border. When we stop in the middle of the polder, we notice that we don't have a candle in the motorhome, so we can't light a candle for Manuel, the (unfortunately) stillborn son of Martijn and Soof and the grandchild of Hannah and Henk, so we commemorate Manuel, whose cremation takes place now, in silence, in this vast Belgian polder landscape.
At 1 pm we arrive in Montreuil sur Mer where there is plenty of space at the parking in town and soon, we walk around the city walls and through the center of this beautiful old fortified town. Both churches are locked, so we can't light a candle here either. By the way
, it is strange that churches are not open because we have not experienced that before in France.
Because the sun is still shining when we are back at the Frankia, Dick can attach a new "Angles Morts" (Dead Angle sticker) on the driver's side door. The old one came off and was torn off and since these stickers are still mandatory in France on cars with a weight greater than 7700 pounds, we ordered new ones. By the evening, the so quiet parking lot fills up with English motorhomes. Not really surprising because Calais (where the tunnel under the Channel opens) is not that far from here. As you can no longer spend the night in Calais because of the large number of refugees trying to enter England from here, travelers come this way.
Thursday February 24th It is cloudy and a strong cold wind is blowing. After breakfast with delicious fresh croissants (yes again) we drive south while we have heavy hail showers. Fortunately, the clouds give way and it becomes dry when we arrive in Fecamp.
The wind has become even stronger, it is storming really bad. It doesn't stop us from wandering around in town and of course we end up on the boulevard where we can watch the natural violence of the sea, which has been pushed up to high waves. You can hardly stay upright in the strong wind that beats on the shore. For a while we enjoy this power of nature before we walk back to the Frankia, parked near the harbor.
Unfortunately, our favorite restaurant "Le Barbican" is closed tonight so we buy salad, meats and baguettes in the supermarket we pass by. Tonight, we don't have to cook. The whole evening, we feel our faces glow because of the strong cold wind. We drink a glass of wine, enjoy our meal and then we find out that war has broken out in Ukraine.
On Friday February 25th we don't get up until 8.30 am. Fortunately, the strong wind has died down so we can safely drive over the high "Pont de Normandy" and after an hour we are already parked in Honfleur. The parking is empty but during the day a stream of motorhomes arrives. Despite the many clouds, there is also a lot of sun, so after a cup of coffee we walk into the town.
It is slightly busier than in December but there are still not many tourists on the streets so we have plenty of opportunity to look around and we climb the hill that leads us out of the city to the beach.
Of course, we look for geocaches on our way and when we reach the beach we slowly walk back to the town, all alone on the beach. When we arrive in town we wander around again, look at shops and at the end of the afternoon we are back. Honfleur never bores us.
Our Turkish restaurant Gyros is open so tonight we get food there but until then we sit inside and see how this large parking lot is slowly filling up with motorhomes. We stay on the edge of the harbor parking so we have a beautiful view of everything and enjoy the warm, shining sun. Of course, we stay inside our Frankia because outside the temperature still does not exceed 46 degrees Fahrenheit. The clouds completely disappeared, so before I go out to get our kebab meal at 7 pm, we fix our insulation mat in front of the window. No unnecessary luxury because as soon as the sun disappears behind the horizon, the temperature drops quickly and it cools down to 39 degrees. At night we have a beautiful starry sky above us and the kebab? It tastes, as always here, very good.
Saturday February 26th the sky is again steel blue and the sun shines brightly. After breakfast, with of course a fresh baguette, we dump our gray and black water and fill up with clean drinking water. That is necessary with only 10% water in the tank. At 8.30 am we drive away and when we are near the town of Caen, we change our travel schedule and decide to drive to Barfleur.
The weather is so beautiful that this place by the sea is very inviting. The great thing about touring in the early pre-season is that there is always enough space for an overnight stay. And yes, we have plenty of choice to park our Frankia on the edge of the village. Soon we walk in the full sun through this lovely picturesque town with its fishing port, where the boats are either on dried up grounds or bobbing around, depending on the tide. The tide is rising so all the boats are in the water and we enjoy our walk around the harbor and through the narrow streets.
When we are back, it is already 4 pm. I am going to write down our experiences while Dick repairs a hole in the windshield that we got when a truck overtook us very tight and threw a stone against the shield. Fortunately, we still have the repair material for that from the USA, but I'm afraid we'll have to return soon to get new windshield repair stuff. Whether it's because I don't have much inspiration to write, or because I started to read such an exciting book ("On Wings of Eagles" by Ken Follett) I don't know but soon I am completely engrossed in my book again and the computer is put away.
After the sun has set, we reapply the insulation mat for the windshield and then walk to the harbor where we want to have dinner. That is not possible at Restaurant de France because they are not open in the evening yet (no tourist season at this moment), but another restaurant does have a table for two available and we soon enjoy French Pate and crackling fresh Fish and Chips. We don't regret that we changed our itinerary and drove to Barfleur.
On Sunday, the weather is again beautiful and after breakfast we drive to Cherbourg. The breakfast is now with old bread because in Fecamp I bought such a large loaf of bread that we can eat it for at least 3 days. There is enough space to stay in Cherbourg and soon after we are parked, we walk to the large shopping center "Eleïs" in the hope of being able to buy a new outdoor mat.
We bought the previous one here, but, stupidly enough, I left it in a parking lot in Rots, so we don't have an outdoor mat anymore. Unfortunately, our so much desired mat is no longer for sale, so we leave, buy some groceries in the large supermarket next door and then walk back. Just in time, because the doors of the mall close behind us. After all, shops in France are only open until 1 pm on Sundays.
Back in the Frankia we drink a cup of coffee and then walk into the center of Cherbourg. A few weeks ago, our friends Marjo and Wim taught us how an "Adventure Lab cache" works and now we want to try this form of geocaching. Unlike normal geocaching, where you look for a box hidden somewhere, the Adventure Lab cache is actually more a city walk where you are guided from point to point. By answering a question about something that happened at a certain point, you can walk to the next point on the route. It takes you, just like regular geocaching, to all the different corners of a city, only you don't get dirty hands. It's a nice alternative if there are no regular geocaches in an area or if you want to explore an unknown city.
We wander slowly under a steel blue sky through the narrow streets of the old town of Cherbourg and enjoy. At the end of the afternoon, we are back. Unfortunately, our Thai restaurant (Khao Thai) is closed, so we can't have dinner there tonight, but luckily Café de Port is open and there is also a table available, so we end up eating very well in an otherwise overcrowded restaurant.
Monday, February 28th, the sky is completely gray again and so we decide to drive on. Around noon we arrive in Pontorson. In the parking lot of the supermarket are threatening signs that the stay here is limited to 2 hours, but there is also a part of the parking where a sign is placed that motorhomes are allowed, so we park there. I have to do my laundry and after coffee I collect all the laundry while Dick gets a shopping cart and then we walk to the laundry room at the front of the street. No one is present, it is still lunchtime and then it is extinct on the streets in France. So, at my leisure, I load the two necessary machines and wait until everything is cleaned. As soon as both washing machines are started, a French car stops along the sidewalk with an incredible number of bags full of laundry. There is still one large and one small machine available and they absolutely don't fit all that laundry, so these French will have to wait another 40 minutes until my machines are released. When I also load the two available dryers (the third dryer is broken), there is also a 45-minute wait for the dryer (their faces are getting angrier), but finally I'm ready and the French can dry their laundry too. Since they run all their laundry on a wool program, everything comes out of the machines soaking wet and the entire floor of the laverie (washing facility) is soon covered with water and therefore soaked with dirt because they also keep walking over it. I am glad that Dick and I stay at the folding table, where we sort and fold our dry laundry and store it in bags.
After covering our bed with clean bedding, we walk into the supermarket to do some shopping for our dinner. 4 Hours later we still have not seen anyone passing by, telling us that we are not allowed to stay here, so we decide to stay overnight on the parking. Due to the posted sign, it is nice and quiet here. Only one French motorhome remains here too during the night.
Tuesday morning March 1st we decide to leave Pontorson. The sky is gray and there is some wind, not really weather to cycle to Le Mont Saint  Michel and 25 minutes later we arrive in the town of Dol de Bretagne. The parking for motorhomes is right in the center and we soon walk around in this beautiful old town. It was already a religious capital in the 9th century and of course we visit the cathedral Saint Samson.
With the help of geocaches we find our way and explore all the nice and special places of this town. Especially the beautiful medieval houses on the Grande Rue des Stuarts are worth seeing. It is very lively town but that can be caused by the many high school students wandering around. We are lucky with the weather because only a few raindrops fall and it remains dry for the rest of our walk. Unfortunately, the sun remains hidden behind the clouds.
At the beginning of the evening, we walk back to the main street where we find a delicious Turkish restaurant. We may enter, despite the fact that it is not yet 7 pm when dinner-time starts in France. Of course, at first, they have to check our sanitary pass. It's still Corona time and to enter a restaurant you have to proof that you are vaccinated. We don't regret eating here because the food is delicious and thanks to the small narrow alley (we call it "our alley" because the name is: Ruelle Robinet – Crane alley) we are back at our motorhome in no time.
Because my niece Inge told us that Mont Dol is also worth a visit, we drive the next morning to this 200 feet high granite rock. It's only 1.7 mile away from Dol de Bretagne. One of the legends about this rock is that the devil and Saint Michel fought here, the claws of the devil as well as the imprint of Saint Michel are visible. Unfortunately, when we climb the hill with our Frankia it soon becomes apparent that we cannot park anywhere and we are also not allowed to drive further, due to the weight restrictions. So, we turn around and decide to come back later this year. Then we take our bike and cycle to this Mont Dol from town. Of course, we want to see those battle tracks, but we also want to admire the beautiful view that you have from the top of the rock over the bay and Le Mont Saint Michel.
Now we drive further along the coast to Saint Malo. It is only an 18 mile drive, but because we drive on winding roads it takes us almost an hour, but eventually we arrive at parking Le Davier near the beach (suburb of Saint Malo). This morning the sky was still completely gray, now we see the sky breaking and sun and blue sky appear. So, we don't hesitate any longer and walk to the beach from where we walk slowly towards the cliffs via narrow footpaths. There is little wind, the sun is shining and we enjoy this circular walk to one of the many rocky cliffs along the coast. Of course, we find our way through some geocaches.
Unfortunately
, there are no restaurants in the vicinity of this parking lot, so end of the afternoon I walk to the nearest supermarket to buy ingredients for our evening meal. The mashed potato, cauliflower and chicken breast taste really good even though it is quite a lot of work to prepare. Dick is always surprised about the many dirty dishes afterwards. Undoubtedly, he would do the preparation much more economical and had far fewer things to clean.
Thursday March 3rd  it is completely gray outside and there is a light drizzle. With this weather we don't want to cycle to the walled city of Saint Malo. Even though we can go there by bus, you still want to have nice weather when walking around in the walled city.
So, after breakfast we leave Saint Malo. Because it started to rain, we drive with the motorhome to the supermarket to buy our baguette and after breakfast we leave and drive further west. In Morlaix, Bretagne, we stop to dump our gray and black water and to fill up with clean water and at 2 pm we arrive in the city of Brest. Given the gray weather we are in now, we think it would be fun to visit the Oceanopolis aquarium tomorrow. It is allowed to stay overnight in the parking lot next door, so we park our Frankia. There are almost no parked vehicles so we can choose from enough places.
Because the reservation via the internet does not accept payment, we walk to the Oceanopolis checkout at the end of the afternoon. Even though our details have been noted, a reservation has not been made, but the cashier manages to solve this (also because it is quiet now) and soon we have two tickets for tomorrow and it's time to explore the surroundings of the aquarium and the Marina present here (Port de Plaisance).
It is a nice walk, we admire the slave monument and enjoy the surfers who, due to the strong wind, sail at least 2 feet above the water surface, only the hydrofoil fin of the board is still in the water. At the end of the afternoon, we are back at the parking. The sun is now shining and we enjoy the last rays of the sun. Again, we put our insulation mat in front of the window, it cools down quite a bit at night.
Friday March 4th  we wake up in time. We shower and have breakfast well before 9 am and then leisurely walk to the aquarium at 9.15 am. We have to wait a little longer for the doors to open but as soon as the gate opens, we slip inside, in front of huge rows of school children. Of course, we have to wear a mouth cap and of course our sanitary pass is checked. But because we already got our vaccination and booster it's no problem.
Oceanopolis is a fairly large aquarium and soon we wander around. First, we visit the polar world, then the tropics and finally we also see the underwater life of Brittany. The puppy seals are pretty funny when diving up. They have in inside and an outside pool . The nice coloured Octopussy also have a great place in this beautiful wide aquarium.
After walking around for 3 hours we have really seen everything. It was very quiet everywhere, so we are surprised where all those school classes have gone. We have not come across them yet. Later we will see that they are in a few special workshops rooms.
After drinking a coffee, we decide to drive to the Breton coast, to the small town of Le Conquet and spend the night there. It is a little more than 19 miles, but because we drive straight through the city of Brest it takes about an hour before we arrive there. Then we notice that the parking lot for motorhomes is closed, due to renovation. Although it will be accessible in a few days, now, we cannot stay. We look for a place in the area where we can spend the night but there is nothing so we drive back to Brest. The sun is shining again and it is still lovely outside. We do our administration and look for a next destination.
We already abandoned our planned route and the town of Concarneau in the department of Finistère, seems to be a good destination, so that's our new destination on Saturday morning.
There are many clouds but after a few raindrops they give way to sun and blue sky. We have enough space to park on the Place de la Gare. The name of the town Concarneau is derived from the Breton Konk Kerne which means Bay of Cornwall. Not surprising because this city is located where the English Channel, the Celtic Sea and the Bay of Biscaye meet. Concarneau consists of two parts, a town on the mainland and the medieval "Ville Close", a walled town on a long island in the heart of the harbor. Soon we walk to this old walled city. Unfortunately, the tourist season has not yet started and despite the few French tourists who wander the narrow streets and over the city walls, almost everything (even the restaurants) is still closed, even after 2 pm when lunchtime is over.
Because there is a geocache hidden in the outer walls of this walled city and it is low tide, the outside of the wall is accessible, so we look for a way to get through the wall. It is difficult to find and when we finally see a narrow passage it is also difficult to crawl through it because the hole slopes downwards and after that you have to crawl down over steep and slippery stones before you can set foot on the (now dry) stones at the outside of the city wall.
But we manage to get through the wall, find the geocache and just in time we crawl back through the narrow hole in the wall because the water is already rising. We walk back through town and then leave the walled city. There we see that the rising water wouldn't allow to do this trip now. Because the wind is icy cold, we enter a cafe at the harbor where we drink hot chocolate milk and after a walk over the boulevard, now fortunately in the sun, we return to our Frankia.
In the evening I pick up food at the kebab shop a few hundred yards from the parking lot, the meal tastes delicious. Our faces just glow after the walk in the icy cold wind and before 9.30 pm we are fast asleep.
Because we discovered a laverie (laundry) less than 200 yards from the parking lot, we visit this one on Sunday morning, after breakfast. It is still quiet inside so we can fill the two large washing machines with our, again bulging, laundry bag and while our clothes and bed linen are washed and dried, I discuss the world politics with a French woman who lives here. We both express our horror at the war in Ukraine and the enormously increased gas, petrol and food prices as a result. Somehow that topic of conversation is big enough to keep us busy throughout the laundry process and it's only when Dick arrives that we stop our conversation.
It's incredible that Dick always knows exactly when our laundry is finished and dried, so he is always in time to help me folding all the stuff together and put it away in our laundry baskets. Our conversation is not quite finished because, when a helpless looking man arrives with pillows and sleeping bags that need to be washed, we (the two women) jump right up to him to give the best advice on how to wash, which program to choose and how to pay. Or this man appreciates that? He thanks us for all the good advice and after starting his washing process, he quickly disappears. And Dick? He doesn't says a word and only look at us.
After storing our bedding and clothes at home, we walk to the beach. There is no rain today, but the sky is gray and again an icy cold wind is blowing. The temperature does not exceed 36 degrees. But the walk along the coast is fun and varied. At least I think so, each rock is more unique than the previous one and we enjoy our beach walk. As it is low tide now, we can also climb to an island that would otherwise be inaccessible. On top is an old turret where a geocache is hidden. It does take a lot of climbing and scrambling before we get back to the boulevard but eventually, we arrive there and slowly walk back to town.
In the evening I pick up food again. This time Thai food which also tastes good. Dick has Pad Thai and I have red curry and we get so much food that we will have another meal on it tomorrow.
Monday March 7th we don't get up until 8.30 am. We sleep a lot and that while we should sleep less as we get older. After breakfast we leave. In Josselin we stop to change our French propane tank. This morning the dashboard was red so we had to switch to the other tank. Fortunately, there are plenty of propane tanks at the gas station and we pay even less here than in December (and that while the fuel price increase everywhere). After the exchange we drive to the parking lot in the middle of this medieval town. It is 42 degrees, although it feels much colder due to the icy wind. Only in the sun, out of the wind, at the foot of the old castle, it feels much warmer. Here it's like spring.
The small town Josselin is nice and pleasant to walk through. Everything is still closed. Even the restaurants will not open in the evening for the next few weeks. So, if we want to eat out, we will have to do that at noon, but for now we are too busy admiring the old buildings. We will definitely return here because the castle is not open yet and we really want to see that imposing building from the inside. In the late afternoon I walk to the edge of the town to the supermarket to buy some yogurt. The rest of the evening we sit inside, read something and of course watch the news.
Tuesday March 8th  it is very cloudy, but the sky breaks and only when we are on the road, we have some splashes of rain. When we arrive in Guerande a cold strong wind is blowing and so we decide, after filling our tank with clean water, to drive on to Bourgneuf and Retz. There is still a place to park in the village and when the rain stops, we park the motorhome and walk around. After recently visiting so many beautiful towns, this one is not special. Except for a bakery and butcher, there are no shops or impressive buildings so, when we are back at the parking, we decide to leave. Unfortunately, there is no place to park in the village of Les Sorinieres, near Nantes.
The motorhome parking is occupied by abandoned and parked motorhomes and so we drive on and finally arrive in Mouzillon just before 6 pm. We stay on a busy parking lot on a busy street. Dick takes a look around and sees a flat area behind a large church. After a bit of searching, we manage to reach this place and park here. We don't know or it is allowed to stay here but, in any way, we are not chased away and sleep peacefully and undisturbed.
On Wednesday March 9th the sky is completely gray again, but after having breakfast with fresh bread from the bakery across the street, the clouds disappear and blue sky and sun appears. We buy some Loire wine at a small shop and leave. Again, we try to park in Les Sorinieres but the same French motorhomes are still parked and there is no possibility to park here and we drive on to Lanvalley, a small town east of Dinan.
The original parking is closed due to the construction of a house, but in the corner of the sports fields we find a space where we can park the Frankia. It's a boring place and after a while I get restless, so we decide to check out both parking places in the neighboring town of Dinan. The first parking is not so convenient to visit the city. It's located in the depths by the river while the old walled city is high on the mountain and the second parking is really outside the city with no shops nearby. Our decision is made quickly and we drive on.
A little later we arrive in the center of Dol de Bretagne. Parking is available and also shops and restaurants are nearby so tonight we will go out eating. We already walked through the center, so now we take a slightly larger bend around the center. Also, a nice walk through parks and past old buildings and of course we walk the last part of the old main street of Dol.
At 7 pm, after having a drink, we walk back through Ruelle de Robinet (our Crane alley) and again we have a very good meal at restaurant "Umut Kebab". Back in the motorhome we read and of course we follow the news before going to bed.
Thursday March 10th , after I bought a baguette from the bakery in Mainstreet, it starts to drizzle a bit, but as we drive further to the northwest, the rain stops and every now and then the sun even breaks through. No one is parked at the port of Loguivy de la Mer, so we will stay here. It is getting low tide and the water in the harbor flows slowly away. The moment to take a look at the island on the coast where a geocache is hidden. It can only be reached at low tide. Unfortunately, the strong wind pushes the water through the narrow creek and around 2 pm there is no coming through unless you are wearing a diving-suit and then it is still a challenge because the tide turns very quickly here.
So, in the afternoon I walk along the path over the cliffs of this beautiful coast in search of another geocache. Dick prefers to mess around at the motorhome. While walking I think it's good Dick stayed at home as the path along the cliffs is constantly going up and down and that would have meant an attack on his knees. It is a beautiful walk and I enjoy the views over the bay. The sun appears and out of the wind, it even feels warm. When I am back around 4 pm we walk together on the dry fallen beach to the island.
It's now half an hour before the tide changes, so the water is almost at its lowest point when we arrive there again. Still there is far too much water to reach the island. So, finding this geocache will be a summer project as we have to swim over a channel. After ordering some bread for tomorrow at the only shop in town, we return to the motorhome.
For the first time the door can stay open and the sun shines in a steel blue sky. Slowly we see the water flowing back into the harbor before it gets too dark. With all that walking around we feel really tired and our bed is very tempting.
Friday March 11th we get up at 8 am. After all, I promised to pick up our bread and croissants at 8.30 am. After a good breakfast with freshly boiled eggs, we leave this small town. The weather changed because it rains regularly and the sun is no longer visible. In Paimpol we stop to look at the parking for motorhomes near the harbor and then drive on. But just as we reach the edge of town, I realize that we can't go to Guingamp today (according to our information the parking in Guingamp is not accessible on Fridays due to the weekly market) so we turn around and drive back to Paimpol.
There is enough place to park and we just see the edge of the harbor. After drinking a coffee, we put on our raincoats and explore the town of Paimpol. This town is best known for the cod fishery in Newfoundland and Iceland. Between 1852 and 1935, the local schooners fished there, staying away for up to 6 months. We admire the mural in the town that recalls that time. Today Paimpol is best known for its oysters "the Paimpolaisi" and the picturesque harbor in the center is a tourist attraction.
It is now dry but every now and then there are a few splashes, fortunately not for long and soon after the sun and blue sky appear again. My colleague Theo writes us that the French always say that the weather in Brittany clears several times a day. And that turned out to be true words for today, because every time after a few drops of rain, the sky clears up again and we can bask in the sun's rays again. When we arrive back at the harbor around 1 pm, we already walked around a couple of miles through the streets of this nice old town, we cannot resist the temptation of a sandwich and so we enter a small eatery.
We each get a huge baguette, generously topped with lettuce, cheese, egg, tomato and tuna as the main ingredient for me and ham for Dick. We love it. But it's a lot of food. We don't have to eat anything for the rest of the day. At 4 pm we are back after walking 8 miles and it's time again for me to write down our experiences. Again, the weather often changes, one moment the rain is pattering against the windows and the next moment the sun is shining in a blue sky. We don't go out anymore and for dinner we only have some toast with cheese.
Saturday March 12th we wake up at 8 am and the sun is already shining in a steel blue sky. I buy a fresh baguette at the boulangerie next to the harbor and after breakfast we leave for Guingamp, only 19 miles from here. When we arrive in the town it is very busy, but again there is a market and then it's always very busy. Today this market is not in the parking lot where we want to stay, but in the center. We are lucky because there is one place available where we can park. Normally school buses park here but in weekends there are no busses so passenger-cars can use this place. After watching the crowds around us, we lock the motorhome and go for a walk.
The town of Guingamp has its origins in a 15th century fortress. The ruins are still located on the edge of the parking lot. The half-timbered houses that are present everywhere in town show the craftsmanship of the master carpenters and there are even old half-timbered houses consisting of 4 floors. Our tour also takes us to La Prison.
This prison that was built in 1841 after an American example, which was a revolutionary concept for that time. The two floors of cells all open onto a courtyard. Unfortunately, this prison closed since 1952 and now it has been converted into a cultural and art center, so there is little feeling with a real prison. Except by me, I worked my whole life in the prison and I immediately re-enter the penitentiary life. The town also has many small alleys and canals that we wander along and that means that we walk a lot. After 7 miles walking around, we return. We don't have to eat tonight because the burgers at the bakery, on the corner of the street, looked so tempting that again we had a lunch. Dick only gets a cup of soup for dinner.
Sunday March 13th, after breakfast, we first drive to the site on the edge of the square where we can dump our gray and black water. Filling our clean water tank is not a luxury either. At 1.30 pm we arrive at the parking lot along the beach at Saint Malo. The sun is shining a bit, although there are also many clouds, but it is 55 degrees and therefore less cold than the past few days. While I grab our cycling bags and backpack, Dick gets the bikes out of the garage and soon we cycle to the walled city of Saint Malo which is only 2.5 miles from our parking. The sun is shining and the weather is good, even though there are still a lot of clouds.
At the city wall we lock our bicycles and walk into town. First along the city wall, but soon we also climb it to continue our trip over the wide road on top of the city wall (the remparts). From here you have a wonderful view of the sea and the islands around. It means that we stop almost every few yards to take another look at the sea and we make a lot of pictures, but we have the time.
Around 2.30 pm we arrive at Café de la Bourse where we find a table inside and order food. The restaurant closes at 3 pm so we arrived just in time. Again, the food is delicious, which is always the case when we eat here. When we pay, we are told that the restaurant is sold.  We hope the next time we are here, the food is still good.
Of course, after our meal we wander for a while through the small streets in the walled city.
We have to after this lavish meal and then, end of the afternoon, we cycle back to our Frankia. Just before it starts to rain our bikes are stored in the garage. Fortunately, after some rain, it clears up again and we can enjoy a quiet evening. Here you see that it's still winter because the parking as well as the designated places for motorhomes, stay mainly empty.
Monday March 14th  we get up at 8 am and after removing the insulation mat from the windshield, I leisurely walk to the supermarket, about half a mile, and of course we have breakfast with fresh baguettes. We wash our dishes and drive to Pontorson. This morning we already put all our laundry together so when we arrive at the supermarket Dick can drop me off at the laverie on the street. Unfortunately, there are not enough available machines and I have to wait 20 minutes for an empty machine.
In the meantime Dick park the motorhome in the parking lot of the Carrefour supermarket. We think we can stay here during the night although the threatening sign (that the stay is limited to 2 hours) is still there. We weren't chased away the last time so we're taking the chance. Fortunately, all dryers are available so after 2 hours we can fold all our laundry, load it into a shopping cart and walk back to the motorhome. After storing everything and cover our bed with fresh bedding, we walk into Pontorson.
The weather is beautiful, the sky is blue with a cloud here and there and it is around 55 degrees, so it is great to wander through this nice town. Special here is the concrete water-tower, located in the garden of a monumental building near the station. It was designed in 1870 by Joseph Monier, the inventor of reinforced concrete. Of course, we also take a look at the old church that is partly Romanesque and partly Gothic and we are not back until the end of the afternoon. Because the cauliflower is advertised, we have that for dinner with mashed potatoes and burgers. We sleep like roses.
Tuesday March 15th we leave Pontorson after breakfast. Unlike yesterday, the sky is steel gray and there is not even a ray of sun to be seen. But when we reach the tip of Normandy, the clouds disappear to give way to the sun and blue sky. Because I want to go to Barneville Carteret to see the parking for motorhomes (the one near the beach no longer exists) we drive north on narrow roads along the coast. It takes some effort to find the place in Barneville Carteret, but eventually we find the place. Unfortunately, it's not allowed to stay here during the summer months, so if we want to spend the night here, it must be done in the winter. However, at a carwash station, we can dump our gray and black water and then we drive on to Cherbourg.
The motorhome parking at "la Cité de la Mer" is incredibly busy. Not only are all parking spaces occupied by motorhomes, there is also an unstoppable stream of pedestrians on the way to the Cité. It soon becomes clear that the new large cruise ship AIDACOSMA (a full electric vessel) of the Aida Lines is moored at the quay.
After parking our Frankia in an unofficial place (let's hope that one of the motorhomes leaves) we walk to that cruise ship. It is at least 1000 foot long and has about 20 floors. No wonder there is a constant stream of people walking back and forth between the center of Cherbourg and this ship.
The weather is beautiful too because the sun is shining and the thermometer shows at least 65 degrees. We haven't had this heat yet. While I'm doing some shopping, Dick manages to get a free parking spot so at least we stay legalized. In the evening we walk into town. The fishing boats bring their load of fish to the shore which is nice to see.
Buckets full of Saint Jacques shells emerge from the hold. And I thought we took a rare specimen when we found the beautiful Saint Jacques shell (symbol for the Pilger road to Santiago de Compostela) on the beach of Loguivy de la Mer. Now I understand that a lot of pubs with a terrace uses these shells as ashtrays. It is still quiet at our Thai restaurant, but it is 7 pm and the restaurant just opened. Compared to December, when they just started, the menu is more extensive, but the quality of the food is still good and we enjoy our dinner. It's good that we have to walk a bit before we are back at the motorhome because we ate too much.
On Wednesday, March 16th  the sky is gray again and the sun is hidden behind the clouds. After our breakfast it starts to drizzle. Not only rain but also yellow Sahara sand falls down and soon the motorhomes are covered with a yellow-brown mud. When we walk through Cherbourg later this morning, all the cars in the streets are covered with this same yellow sludge. The carwashes will be very busy in the near future.
Using an adventure lab cache, we end up in the gardens of "Park Emmanuel Liais". We are taken immediately by a Frenchman who, in rattling French, gives unstoppable information about this park and what there is to see. Dick quits immediately but I follow the Frenchmen for a while before I can turn away and finally, we can explore the park together. Located in the heart of Cherbourg, this park was created by Emmanuel Liais, not only an astronomer and passionate botanist, but also mayor of Cherbourg. He collected rare plants during his travels and his stay in Brazil.
Not only the outside gardens are special, also in the greenhouses you can see special plants such as the "ncephalartos Altensteinii" plant that can live for more than 1000 years and only bears fruit once every 30 years. And let that just be the case. We admire the special fruit that resembles a huge pine cone.
But the enormous ferns, who could have escaped Jurassic Parc, also make a deep impression on us. It is a special Parc to wander through and an example of how geocaching can bring you into a special environment. We enjoy. Finally, we say goodbye to this botanical garden and continue walking through the streets of Cherbourg and climb the hills to the cemetery where not only civilians are buried but also soldiers.
Even soldiers from the American Civil War who died in a battle on the sea off Cherbourg. The Confederate cruiser Alabama was intercepted here and sunk June 1864. Because this cemetery is located high on the slope above the city, we have a beautiful view over Cherbourg and the sea. Unfortunately, it starts to rain so the view is lost a bit but the impressive cemetery remains and after exploring most of it we descend back to the city where we drink coffee (with a pastry) before we walk slowly back to our Frankia. Fortunately, we have good rain jackets because otherwise we should be soaking wet.
In the evening we walk again along the harbor into the city. Luckily it has dried up. Unfortunately, Café de la Port, where we wanted to have dinner tonight, is closed. So, we walk around in the center and automatically end up at our Thai restaurant. There we are warmly welcomed, we enjoy our Thai food, which is again of good quality. When we are back at the motorhome we attach our insulation for the windshield, because the clouds disappeared and the sky is clearing up. The temperature also dropped significantly. It promises to be a cold night.
Thursday, March 17th , there are indeed no more clouds to be seen and the sun shines in a cloudless sky. After a good breakfast with fresh baguette (I bought it during my morning walk to the shopping center) we dump our gray and black water. We have to be patient because the Frenchman standing in front of us, can't dump and refuel at the same time, doing everything one by one takes a long time but finally it's our turn and more than half an hour later we leave Cherbourg and take the back roads to Honfleur. The closer we get to Honfleur the more striking the sky looks, a straight line of white clouds cuts across the blue sky. Fortunately, we stay under the sun-drenched, blue part of the sky.
After parking the motorhome at the harbor, we walk into town. I don't know how often we've walked here in recent years, but this town always fascinates us. Again, we wander past places that we have not seen before. Even though the sun is shining here, there is still a cold wind, but because our road requires us to climb steeply up the streets of Honfleur, we don't feel cold. It's obvious that Spring is coming and everywhere we see some flowers and plants growing in the walls along the streets.
After a few hours we are back and I walk to supermarket Lidl. Unfortunately, the jeans I buy are really too tight around my calves, something Dick agrees too, so I return them and after coming back I finally can sit down. We enjoy the sun and watch the motorhomes arriving one by one. After all, it is almost 7 pm and that is the time when many Frenchmen look for a place to parc for the night. In the evening I get food from our kebab restaurant Gyros, which tastes good and after a lazy evening and watching TV, we fall into a dreamless sleep.
Friday March 18th I'll buy some croissants for a change. What a fantastic country is France. It is possible to buy fresh bread every day in every town. Sometimes you have to walk a little further because the bakery is closed, but that is the law in France: every bakery must close one day a week. After breakfast we want to dump and fill up. Again, we have to wait. In front of us again a slow Frenchman. He has a flat-water hose with very narrow channels through which water flows very slowly and because there is also a leak in the connection to the water tap, most of the clean water disappears next to the hose. But we kill time talking to each other and we exchange travel experiences. While the Frenchman is filling up, he doesn't bother that (in the meantime) we dump our gray and black water. When his water tank finally overflows, we only have to fill up with clean water. In the meantime we did wait for almost an hour.
Fortunately, the distance to the city of Beauvais is not far, only 97 miles, so at 1.30 pm we arrive at the parking on the edge of the center. Again, the weather is great and out of the wind the temperature is 59 degrees. We slowly wander through the streets of this picturesque town and of course we walk through small, old streets to the gigantic cathedral in the center.
The Cathedral Saint-Pierre de Beauvais, is the highest cathedral in the world and certainly looks impressive, standing in full sunlight. The building is one of the most daring constructions of the Gothic culture, but due to circumstances it was never completely finished. Even though we visited this cathedral a couple of months ago, we want to take another look inside and walk around. We also see a part of the rare 14th century astronomical clock from 1866. To get really close you have to pay but then, you also get information about the origin of this impressive timepiece. Finally, we leave the cathedral, walk across the impressive square where the beautiful town hall is located and arrive back at the parking. It is now end of the afternoon and time to get some food on the other side of the street at the huge Carrefour. We enjoy the rest of the evening in our Frankia, have a good dinner, watch TV and read our books.
Saturday March 19th  it is still cold, mostly caused by the wind, although the sun is shining and the sky is steel blue. After breakfast we leave Beauvais and drive across the countryside to Laon. When we climb up the steep mountain road where Laon is on top, we find out that we arrive from the wrong side, so I direct Dick back down because I don't want to experience another gruesome trip through the narrow streets of this medieval town. We drive along the foot of the mountain and climb up on the other side over steep hairpin bends and under Dick's grumbling. He knows we "easily" fit through the narrow streets and now we make a detour for miles. I sometimes think that men have a lot to endure from their women.
Finally, we arrive at the parking next to the city wall where we are allowed to stay overnight. There are no other motorhomes and passenger cars are parked everywhere. So now it is impossible for other motorhomes to park. After a cup of coffee, we stroll through the town. The tourist season has not started yet because even though there are a few tourists, for the most part we just walk alone through the small medieval streets. We notice that a lot of shops are closed. Corona has clearly struck here.
For the first time, thanks to a Adventure Lab cache, we now also reach the other side of this town. Here is a second (more dilapidated) entrance gate. But it's in the full sun and it is warm. After taken some pictures, we slowly walk back, make a reservation at restaurant Agora on the square in front of the beautiful cathedral and walk back over the city wall.
From here we can look at the roof of our Frankia and see how much Sahara sand has accumulated here, so Dick quickly grabs our ladder to clean the roof and especially our two solar panels. No unnecessary luxury, because we need the electricity to charge all our batteries and laptops. At 7 pm we have a leisurely walk to the restaurant where we have dinner. The food is very tasty as always when we eat here. Back at the Frankia we first attach our insulation mat for the front window. The sky is clear and it promises to be a cold night, it will only be 37 degrees.
Sunday March 20th we get up at 8 am, awakened by the sun. I walk to the bakery in town (always nice this morning walk) and after breakfast we leave. When we arrive in Liart we call our friends Cor and Esme (just to be sure). Maybe they are at their house in France (it's in this town) and we can say hello to them. Unfortunately, they are at home in the Netherlands so we drive on and around noon we arrive in Bouillon, Belgium.
The parking is very busy but there is still a parking place available. The weather is beautiful, although there is still a cold wind. The town of Bouillon is dominated by the medieval fortress of Godfrey de Bouillon, the famous knight who sold his castle in 1082 to finance his first Crusade. Even now it is an impressive structure and of course we climb up the steep slope to the castle. From here you have a beautiful view of the center of Bouillon where the river Semois meanders through. After a steep descent we arrive in the old city center where we, once again, wander through the streets, using geocaches to find our way.
At the end of the afternoon we return, this time not over the mountain but through a tunnel. Many motorhomes are now leaving and it is actually quiet in the parking lot. Around 6 pm I walk back to the center, this time to get food. On the way back it starts to drip but I'm on the phone with my sister Hannah so don't notice this drizzle. It really starts to rain when we are having our dinner. We were really lucky with the weather today. Fortunately, after an hour, the rain stops and the air opens up again, so we attach our insulation mat in front of the window.
After a clear and cold night, the sun is shining again on Monday morning. Our dashboard indicates that the French propane tank is empty again, so after dumping gray and black water and filling clean water, we drive to the border with France. In Longwy, where we were originally supposed to spend the night, we stop at a supermarket and buy a new tank with propane from a vending machine, then we exchange the empty tank with a full tank.  At home I thought that, if we drive through Luxembourg to refuel (and we do that because petrol is cheaper here), we could look for the oldest geocache in this country. So, we drive through the narrow streets of Rodange in Luxembourg in search of the first part of this, consisting of 5 stages, geocache.
Unfortunately, there are weight restrictions everywhere and so we climb the hill and end up in narrow, steep streets, even the bitumen disappears and we continue to drive over smooth cobblestones. When we are high on the hill we have to descend through even narrower streets. Cars are parked everywhere and scaffolding has been built along the houses, so our Frankia has only a few inches space on either side. But luckily Dick manages to get down unscathed. When we arrive on a wider street I've had enough. With such streets I want to leave Rodange, then no old geocache. It is almost impossible to drive a large camper here. The only possibility to reach the geocache here is to take our bike. So, we drive straight to the North, through the city of Luxembourg.
When we drive past the second oldest cache, in Colmar Berg, Dick is kind enough to park the motorhome at the exit of a country road. There is no parking space anywhere so he stays inside while I walk into the forest, cross a river via boulders and then climb further up the mountain via a steep hill. On top of the mountain in the forest, I find the geocache in question and after 30 minutes I'm back. The temperature has now risen to 66 degrees. Through endless towns in the Luxembourg countryside, we drive further north, we fill up our motorhome tank and a jerrycan with diesel at the border and then drive into Belgium.
We have to search for the parking In Stavelot and with some indications from the local population we find the right way and finally we arrive at the parking lot next to the swimming pool where we park our Frankia. Of course, we walk around in the old town. It's too late to visit the museum of the Spa-Francorchamps race track, so we make our way over the cobblestones in the old town and along the ruins of a church from the 11th century and return to our quiet spot by the river after a 3 miles walk.
Tuesday March 22nd we get up at 8 am and after a quick breakfast (this time with yoghurt) we drive to Sittard. We are back in the Netherlands. When we arrive at 9 am at motorhome parking next to the new Hateboer, a swimming pool I fear that the parking lot is closed because not a single motorhome is parked here. But luckily, we can drive through the gate and park our Frankia.
Of course, we first drink coffee before we explore the city of Sittard. It is easy to walk to the center from this parking, especially with this radiant weather. It is now 65 degrees and my jacket quickly disappears in the backpack. Dick is less bothered by the heat and just keeps his jacket on. The large square in the center looks nice and the terraces are overcrowded. Unfortunately, the great church of Sittard is closed, but the Paters church next door is open. At the entrance door is a small stone lion.
In 1938, during High Mass on Santa Rosa Sunday, two lions escaped from a circus on the market. One of them, lion Azor, quietly walked into the crowded church and lay down on the altar, a frightening event. This scene is clearly visible on a photo inside. I understand that at that time, this event was world news.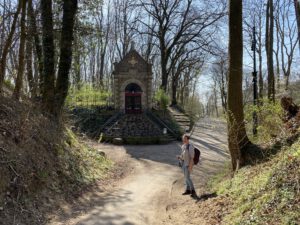 Slowly our walk takes us out of the city and we climb the Kolleberg. When Sittard was ravaged by a dysentery epidemic in 1668, Santa Rosa of Lima was called upon to protect Sittard from this and in thanks for this, the Santa Rosa chapel was built on the highest point of the city. It is quite a climb up the mountain but with this beautiful weather definitely worth it. After taking some pictures and talking to other people climbing up too, we walk back at our leisure.
In the afternoon I walk into town again, now to exchange some books in the mini library and the rest of the afternoon we sit in the motorhome and do our administration. It stays quiet in the parking lot, but late at night cars are parked between the motorhomes. Why? Do they deal in drugs here? At least we don't mind because we sleep like roses.
Wednesday March 23rd we leave Sittard after breakfast and drive to our motorhome dealer Raema in Nederweert. A lock bolt has vibrated loose and we do not have locktide. But it is quickly fixed at the dealer and soon we are on our way again and at 1 pm we park our Frankia behind our home.
Because we leave again on Friday, almost everything stays in the motorhome. We take only the laundry bag and the contents of our refrigerator inside. While I load the washing machine with clothes and bedding, Dick works on the outside of the motorhome and soon brown streams of water are gushing down. The motorhome is really dirty. Dick notices what he started because while I'm having nice chats with our neighbors, he's busy cleaning, hour after hour. But finally, after hours of cleaning, the Frankia is clean and shines again and we can park it behind our house. Fortunately, we have just enough space. Thanks again to our neighbor Evelyn who moves her small motorhome. As thanks for her effort, Dick also sprays her motorhome with water. He has to because, without consulting Dick, I promised her. It's nice to be home again, although it's only for a day and a half. We still have a "Frankia " weekend ahead of us.
And that weekend starts Friday morning, March 25th. We wake up early, pack the last things in the motorhome and then we leave. We only have to drive a short distance because Alblasserdam is just around the corner. As  the crow flies it's only 9 miles, via the road it's 20 miles. Before we enter the site of the camper parking, we stop at Hornbach, a garden center. Fortunately, we find a new doormat here. Not as good as the one I left in France in December, but we don't want to be without it. We now found out that not having an outdoor mat gives extra dirt in the camper.
When we arrive at Camper Park Kinderdijk at 10 am, we are not the first Frankia motorhome. A number of motorhomes already arrived yesterday and because of the nice weather there are many chairs outside on the lawn. Pieta and Kees, the managers of this camper park, have an information folder for every Frankia driver as well as a name tag, so when our motorhome is parked, I walk along the already present motorhomes to write down the names. It helps me to learn everyone's name, but it also makes me regularly stop to have a chat.
Nevertheless, in the afternoon we break free from the pleasant conversations because of course we also want to visit the World Heritage of Kinderdijk. Dick used to visit this place with his parents but I've never been here, even though we don't live far from here.
This largest mill complex in the world, I believe there are about 20 windmills together, is a special place. It is a pleasure to cycle around over the small dikes and we regularly get off our bike to take pictures. To our surprise we meet Bart and Robert on one of the dikes. Years ago, we regularly attended travel fairs together where we gave information about exotic destinations in Asia.
And now, in the middle of this quintessentially Dutch landscape, where all elements of the famous Dutch water management come together (century-old mills, cleverly constructed dikes and polders) we meet them again. Of course, we talk for some time during which we regularly have to step aside for passing tourists and finally we say goodbye to each other. Bart and Robert have a shop at their home in Schijf where they sell statues and pagodas from Bali, Indonesia and we want to see this.
In June, we will visit them when their garden with the statues is at its best. We cycle further, take many pictures and enjoy the landscape with the many, many windmills.
After a very pleasant evening, where the residents of 22 Frankia Motorhomes come together and I lose my voice due to the loud noise (I chat too much and too loudly), we have a meeting on Saturday afternoon. Goal is the founding of a Frankia club. In order to be free from obligations, such as choosing a board, holding an annual member meeting and collect contribution, we finally chose to have a Frankia App group. This outcome is celebrated in the evening while enjoying a delicious Chinese Buffet and some drinks. And again, we chat a lot. Those Frankia drivers are really very nice.
On Sunday March 27th, the weather looks completely different. The sun is nowhere to be seen, a thick cloud cover hangs above the camperparc and it's freezing cold. After breakfast, distributed by Aveco (an insurance company for motorhomes) the sky breaks luckily and the temperature warms up so end of the morning we enjoy coffee with pastry (Alblasserdammertjes) on the terrace. This treatment is offered by our motorhome dealer Raema Caravans & Campers. Then we say goodbye to the other Frankia riders and drive back home. We look back on a very pleasant weekend together. Unloading the motorhome goes quite quickly and cleaning the inside doesn't take much time either (it's unnecessary to clean the outside too) so, end of the afternoon, Dick returns the motorhome to our storage in Geervliet. For the first time in two years, I don't come with our passenger car because Dick comes back by public transport. This helps because now I can place, all the stuff we unloaded, elsewhere at home and thus clear our living-room.
The only thing left to do is to clean the carpet from our motorhome. It's Dicks job to do that. He is much better at vacuuming, but he also gives a much more thorough cleaning of the carpet with water and soap.
We soon left our travel plan this trip and, due to the weather conditions, we also returned along the beautiful French coast. But that was no punishment and we had another fantastic trip. In total we drove 2440 miles. We did not cycle much, only 26 miles, but that is because it is often better to walk around in the cold. The counter in our legs has therefore stopped at 131 miles